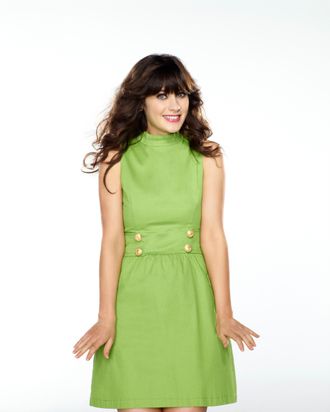 Zooey Deschanel has made TV safe for bigger stars.
Photo: FOX
Having settled on most of their pilot contenders for the 2012–13 season, the broadcast networks now have to figure out how to fill literally hundreds of major roles in these would-be shows. The bad news: They've got just a few weeks to audition and sign talent in order to have pilots ready for May's upfront scheduling announcements. The good: The roster of names available to casting agents has never been wider, or dotted with more recognizable actors. In addition to the usual suspects who always seem to be trying out for TV shows (think Sarah Chalke or JoAnna Garcia), we're now in an era when doing television — both cable and broadcast — is often just as attractive an option as a career devoted to features. Not only is TV generally doing a better job dominating the pop-culture conversation, but studios aren't making as many features as they once did, or are more frequently choosing to go with unknown names rather than stars in order to save money. Both factors play in TV's favor. "As the movie business shrinks, you see more well-known actors considering TV, and the networks no longer look at it as crazy or a stretch to go after big names," one talent agent told Vulture. Does this mean we can expect James Franco or Channing Tatum to sign on for NBC's new Munsters reboot? Probably not, but then again, who knows? After surveying our talent agency sources, Vulture found some surprising names on network wish lists this pilot season. We also heard one actor mentioned frequently as the poster child for broadcast TV's new talent economy: Zooey Deschanel.
While Deschanel is just one actress with one hit show, industry types we spoke to said her smashingly successful move to the small screen in New Girl underscores just how dramatically the TV casting dynamic has changed in recent years. Broadcast networks once only hoped to lure film stars on their way down, convincing a William Petersen or Martin Sheen that it was time to consider TV parts. While film stars of a certain age are still the most likely targets of pilot casting directors hunting big names, Deschanel has TV types believing they've now got a decent shot at snagging hot actors on their way up who are having trouble finding interesting film roles. "She's made it palpable for many younger actors this season," said one top agent, who notes how the (500) Days of Summer star and She & Him songstress hasn't seemed to lose a bit of her indie credibility by doing a half-hour comedy on a Big Four network. "Movie people are still hanging out with her, and other actors see how much attention she's getting. She's brought this cool factor to TV, as opposed to it being the place actors go when their careers are dying."
So which buzzworthy young 'uns are showing up on casting radars this pilot season? One agent source says he's heard many mentions of Malin Akerman, who's done TV before (The Comeback) and still finds time for appearances on the mini-show Childrens Hospital but lately has been in demand on the big screen, popping up in movies such as Watchmen and currently preparing to play the title role in Inferno: A Linda Lovelace Story. Production on the latter project is scheduled to begin next month, according to reports, which could make it tough for her to squeeze in a pilot this spring. Still, that hasn't stopped networks from coveting her, according to our spies, possibly considering her for projects that might shoot this summer for midseason consideration. Other names being bandied about as possible "Zooeys": Isla Fisher (Bachelorette), Justin Long (a former TV actor who just dipped his feet back into the small screen waters with a guest arc on New Girl), and, according to a report on Deadline Monday, Anna Kendrick (50/50) and Michelle Monaghan (Source Code).
As for more seasoned actors who might be in the running for TV shows, we, like Deadline, are hearing much mention that Uma Thurman and Tim Robbins are being lusted after. One of our agency sources says some networks are hoping Dennis Quaid will do TV this year (he was stalked for Shawn Ryan's upcoming ABC drama The Last Resort), while Greg Kinnear, Ed Burns, Billy Crudup, Kim Basinger, and Tea Leoni remain fantasy castings for many broadcasters. "Demi Moore was also at the top of everybody's list this season until she kind of went nutty," one agent tells us. "And Meg Ryan has had drinks with a few people." Deadline, meanwhile, reported several other names we didn't hear from our sources, including Jane Fonda, Hugh Grant (perhaps because he flirted with Two and a Half Men), and Ellen Barkin. At this point, we should underline that there's a big difference between casting directors lusting for a name, or actors agreeing to read pilot scripts, and any given actor's actual likelihood of ending up on the small screen: Flirtation and courting can be a long way from signing on.
As impressive as some of the above names are, our agency sources expect networks and studios will keep aiming higher. For one thing, a rising tide lifts all boats, and currently in TV, basic cable is continually raising the bar with its talent grabs (Jessica Lange, Glenn Close), while premium networks have begun luring the biggest stars on the planet (Ben Stiller is making a comedy for HBO). What's more, insiders says there's a sense of a shift in the balance of power between stars and networks. It used to be that broadcasters would be willing to pay crazy sums of money to get a film actor to do TV, as CBS did in 2000 with Bette Midler or NBC did three years later with Whoopi Goldberg. (Both shows flopped.) Now, while big names still demand premium salaries, networks are pickier. "Last year there was this big change, where there were some big names cast in pilots and then the pilots didn't [move forward]," one top agent says, pointing to failed projects starring Matthew Broderick, Ethan Hawke, and Minnie Driver. The fact that networks feel okay saying no to names that well known shows a sense of confidence, one agent says: "There's much more of a sense these days that almost anyone can be in play."