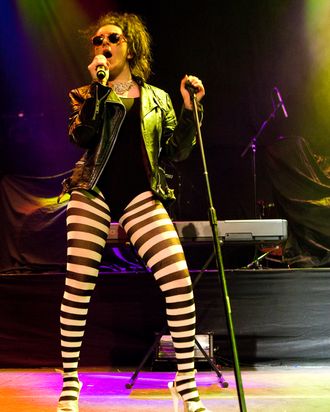 Charli XCX (moment #6) performing in London earlier this month.
South by Southwest culminated by combining the last evening of conference shows, a normal Austin Saturday night, and, right, St. Patrick's Day. Results: Much drunken mayhem (one guy repeatedly wished me a happy New Year), more drumming per square foot than possibly anywhere else on earth, one of those staggering-zombie-apocalypse scenes on 6th Street, and the A$AP Mob getting in a fight with part of the audience at a Vice show. Another great year. Here are some of my takeaways from this year's conference:
1. There are a lot of acts I came down here unaware (or only partially aware) of, and will leave loving, including: the twitchy Texan punk of Mind Spiders; the calm, earthy sound of British soul singer Michael Kiwanuka; and the gauzy, subliminal dance music of Mmoths. The main one, though, is bound to be Kwes, whose sly, eye-opening "Bashful" keeps repeating in my headphones.
2. I'll be kicking myself for missing floppy new-wave romantics the Drums, Rick Ross playing the Fader Fort, the Jesus & Mary Chain, a reunion of Ohio underground rockers Death of Samantha, Bruce Springsteen's all-star blowout, a million things — but I can't help suspecting one of the big misses was rapper Kendrick Lamar. I'm pretty sure I saw most every other member of his L.A. Black Hippy crew at some point, but never caught its breakout guy.
3. The year's most surreal moment was definitely watching Turquoise Jeep — who I can only describe, if nobody's ever forced you to watch their YouTube videos, as a sort of Spinal Tap for R&B — playing a stage shaped as a giant vending machine full of Doritos. Or maybe it was how psyched parts of the crowd were about the show, especially the ab-roll-intensive choreography. I'm still not sure whether this stuff is (a) fun, (b) "the monetization of LOL culture," as one friend suggested, or (c) oddly similar to the situation that made Dave Chappelle quit his show and escape to Africa.
4. The best rock show I saw was going to be a Friday-night gig by Cloud Nothings, who revel in the power of negative thinking on their new album, Attack on Memory, a slice of teeth-gritting, frustrated indie-rock classicism. (Hearing front man Dylan Baldi repeatedly scream "I thought I would be more than this!" after an extended noise breakdown got to me.) But then I caught New York noisemakers Sleigh Bells, opening for Nas, and I have to tell you: Their show is fierce.
5. I did not get to see Skrillex, but I am confident that walking through teeming crowds on St. Patrick's Day with his "Scary Monsters and Nice Sprites" booming from every third bar was a near-exact replica of the experience.
6. Most memorable image, apart from the terrifying Dorito-machine stage: British singer Charli XCX playing a gusty, gothy, Spandexed pop set at Central Presbyterian Church, with the large cross behind her (and her hairstyle) combining to create distinct early-Madonna vibes.
7. Feel-good show: Thee Satisfaction, a two-woman hip-hop soul group from Seattle — on their third year here, and getting traction thanks to terrific guest spots on last year's album by their compatriots Shabazz Palaces — playing songs with serene boho cool, intellectual commitment, and this one Living Single reference that gets me every time.
8. Best embrace of rock clichés: Free Energy, who still seem like a shaggy small-town band from 1979–1983 has been whisked into the future, instead of plugging along occasionally opening for Cheap Trick or Loverboy.
9. Best conversation I'll overhear all year: "Is he looking at me because he thinks I'm weird, or because he thinks I'm cute?" "Sweetie, you are barely even one of those things."
10. The best-conceived electronic pop show I saw came from the Canadian duo Purity Ring, who create a pointillist synth wonderland, stretch and mangle Megan James's clear pure voice, and rig samplers and lights together in a way that's visually bewitching.
11. Strangest pastime: Amateur diagnoses of Fiona Apple's mental and physical health. It seems to me that at the moment she is exercising her craft and performing extraordinarily well, and that's the only part that seems like much of our business.
12. One sound people seem to be loving, more and more: The kind of day-glo, new-wave approaches to pop, R&B, and hip-hop offered by artists like Santigold, Blood Orange, and Theophilus London.
13. And my favorite moment of the conference remains the same one from day two: Seeing the San Francisco metal group Deafheaven make glorious, wall-clawing, screaming swells of romantic noise in a dark room at the back of Brooklyn Vegan's "Hotel Vegan."
Every year, this conference gets larger and larger, leaving attendees to pick increasingly specific paths around its girth. Bruce Springsteen, giving a keynote address, heartily embraced that diversity, rattling off some of the hundreds of subgenres and scenes and styles you could wander around Austin taking in. (He closed by saying he might be off to see some black metal.) Earlier in the week, I said the Interactive portion of the conference was like the Internet, only in person. But then so is the Music part: vast, increasingly centerless, a little daunting, and bound to send you home feeling like you only got a pinhole view of something you wish you could see in its entirety. And also with ads on banners everywhere — just cheaper, dirtier, stickier ones than last week.