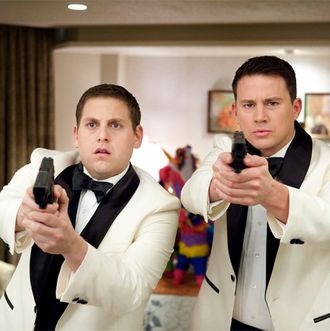 21 Jump Street pulled in a solid $35 million in its opening weekend, preventing The Lorax, which earned another $22.8 million, from winning the domestic box office for a third straight week. The remake of the Johnny Depp–led eighties television show received some lukewarm (David Edelstein calls it an "agreeable shambles") but generally positive reviews and nearly reached its budget of $45 million. Deadline attributes some of Jump Street's success to Sony's extensive word-of-mouth campaign with over 350 screenings nationwide. Channing Tatum's boyish charm doesn't hurt either.
Meanwhile, John Carter might be suffering from a word-of-mouth campaign, dropping 55 percent this week with a domestic take of only $13.5 million. Carter is actually performing well overseas, though, finishing tops abroad again, bringing its total overseas gross to $126.1 million.
Finishing a noteworthy ninth was Will Ferrell's Spanish-language Mexican soap opera parody Casa de Mi Padre. It earned $2.2 million in only 382 theaters, good for the second best per-theater average.
But the weekend belongs to 21 Jump Street. Let's not draw too many conclusions, though — a lot of people were drunk this weekend.