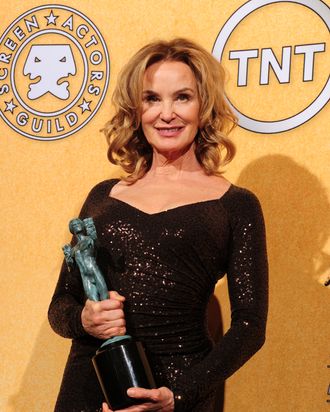 AMERICAN HORROR STORY: Episode 12: Afterbirth (Airs December 21, 10:00 pm e/p). Jessica Lange (L). CR: Prashant Gupta / FX.
Photo: FREDERIC J. BROWN/AFP
Ryan Murphy let slip a little while back that he'd be bringing back Jessica Lange in some capacity for the new season of American Horror Story, but this will be no mere guest-starring gig. "We have designed the second season of American Horror Story completely around her character," Murphy tells EW. "Last year Jessica came in with Connie Britton and Dylan McDermott. This will really be the Jessica Lange show so I'm very excited about it." Three other actors will return from last season (Murphy will announce those tomorrow), though they'll all be playing new characters, and Murphy says that Lange's new role will be the opposite of season one's Constance: "She has a lot of ideas, and has a lot of input into her character. She told me some things she has always wanted to play as an actress." Yes, but what will her hair be like this time?