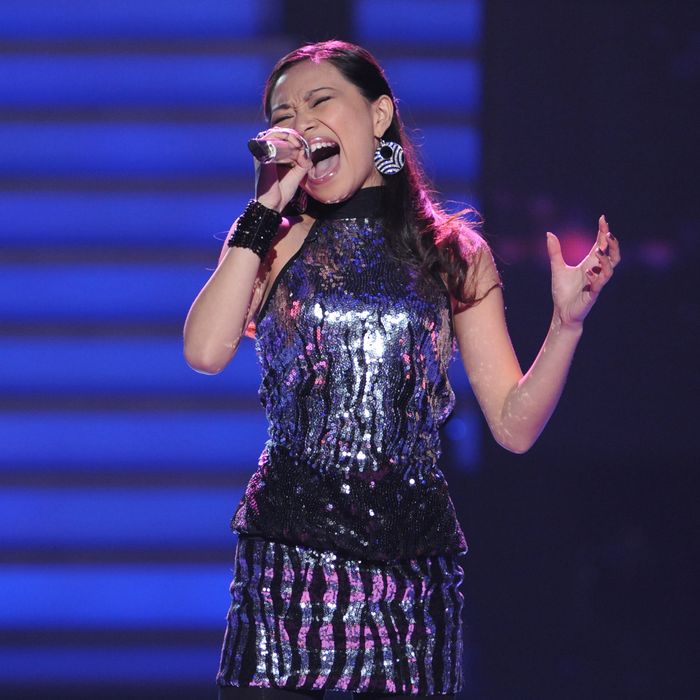 Photo: Michael Becker/FOX
Tonight we hear the top twelve girls on American Idol, a show that can, in Ryan Seacrest's words, "take a high school kid and turn him into a platinum-selling recording artist." After a couple of seconds of silence, he adds: "That's Scotty McCreery I'm talking about." And then the crowd collectively goes "RIGHT! Yes. Him. Whooo!" Clearly, the stakes are high. Let's dive right in.
Chelsea Sorrell goes first, and does an interview package in which she cruelly and relentlessly disses her hometown. She passes a Bi-Rite grocery and says, "They don't even know how to SPELL in my town." (They apparently also don't know which stores are part of nationwide chains.) She steps off the airplane to Hollywood and yells: "I'm in Hollywood and I'm never goin' home!" Except yes she is, because her take on Carrie Underwood's "Cowboy Casanova" is forgettable. Here's how not great she was: Randy Jackson judges her! The judges agree that she didn't stake enough of her own territory, and they're right. They also agree that it sucks to go first, but I don't know — Reed Grimm seemed pretty psyched about it last night. (In fairness, Reed Grimm seems pretty psyched about everything.)
Erica ven Pelt does a decent enough job on "What About Love" by Heart, but it lacks the oomph I have come to expect from her. She does seem to have gone on some sort of mega crash diet in the last month, so it's possible she lost her oomph weight? Steven Tyler tells her "your confidence breathes wings into a song," which is probably not the sentence that was in his head, but you never know with this guy. Randy hatches a plan that even he is not fully behind when he says: "If she D.J.'s as good as she sings — who ever heard of that? A singing D.J., yo!" How would that work? What are the details and logistics of this goof-dick plan of yours, Randy? We will never know, because we are on to …
Jen Hirsh! Whose family runs Cielo Winery in Malibu! Whose tasting room I have totally been to, and it's actually very good! If the Hirsh family would like to send me cases of their robust Cabernet Sauvignon in exchange for positive coverage of Jen's performances, I am willing to listen to an offer! She does "One and Only" by Adele — more Adele! How refreshing! — and though she crushes it, it's not her very best performance. It's times like these when I miss Simon, who would have given her some shrewd and helpful feedback. Instead, Randy says "yo" a million times, Jennifer tells her she's beautiful, and Steven makes up a dirty limerick and vomits. To paraphrase Donald Rumsfeld: You go with the judging table you have.
So far, even though none of these women has given her best performance, they are head and shoulders above the boys. Idol is obviously desperate for a female winner.
Brielle von Hugel. All right, listen. This girl is 17, which is way too young to be personally vilified by a 40-year-old man in sleep pants, but she and her mom are just a tiny bit more abrasive than I can handle right now. She reveals that she is from Staten Island and that she is a cheerleader and that her mother is her biggest supporter, and even if this is the first time you're seeing her, you immediately know that her story checks out. She attempts Otis Redding's "Sittin' on the Dock of the Bay," which starts out too low for her, and ends up too shouty for the song. She is aware that this song is about not making a huge big effort, right? Otis was not wasting time on that dock yelling, was he? He was not. And just when I'm wondering whether I've been too harsh on her, she does her post-performance interview and refers to herself in the third person. Good night, Brielle.
Hallie Day — of Plum Crazy fame — does "Feeling Good." Aspiring singers of America: You are aware that there are other songs to choose from, right? Literally dozens of them! She does an okay job, but this is such a well-worn path by now that it's impossible to make an impression. Plus her big note at the end falls mostly flat. Randy compares her to Lana del Rey, in that … I guess they are both women? My mind wanders, and here's where it goes: Knowing as we do that Hallie Day went to rehab after Plum Crazy, do you think she was there at the same time as Howie Day? Isn't it fun to think of all the rehab mix-ups and shenanigans that must have resulted in? The mix-ups and shenanigans side of rehab is under-represented in the media.
Skylar Laine is up next, and I'd like to point something out: Every time there's a country song, the big new Stage Oval splits open to reveal a wide-stanced, pelvis-thrusting, hair-whipping fiddler at the top of the stairs. Who is this mysterious figure? Her performance of Faces' "Stay With Me" is full of jittery energy — very possibly because she's nervous about the molesty-seeming guy behind her — and it totally works. She will make it through. Mark my words!
The flipside of the country coin is Baylie Brown, who does a flat, shaky, sleepy take on Lonestar's "Amazed" and gets tonight's first straight-up thumbs-down from the judges. It's pretty rough. But in her interview, she tells us how bad she wants it, so she'll probably win the whole thing, because that's how it works.
Another general note: Tonight there are a lot of tight dresses messing with a lot of girls' breath control. Lighten up the corset and sing, Cora!
Hollie Cavanagh is 18 and she is from Australia sometimes. No, really — she has this accent that comes and goes with no explanation, and it is mad distracting. She does "Reflection," another one of those songs you hear a million times on shows like this, and does pretty well. Jennifer says, "I'm looking forward to America seeing what you do do when you let your hair down," and the judges table laughs about "doo doo" for eleven minutes.
Haley Johnsen is a gymnast, and they show her doing a flipping and bouncing routine, which ends right behind the American Idol logo bug, so we will never know whether she stuck her landing. (That's what those are called, right? Flipping and bouncing routines?) She does Eurythmics "Sweet Dreams," and it is the first genuinely weird thing I've seen tonight. It's spooky and minor-key and the stage screens all have single eyeballs on them. I had no idea Haley was this kind of girl. I actually had no idea what kind of girl Haley was. I wish it worked better, and the judges don't like it at all. I have a bad feeling about Haley.
Shannon Magrane is up next, and if you were wondering whether they were still milking that moment when Steven Tyler borderline hit on her in front of her father, you can relax because they totally are. Shannon does some inspirational song I've never heard before, about how there's a candle in your heart and you should have it lit at all times and show it to people. (Side note: Should I be an inspirational-song lyricist? Probably, right?) I think Shannon is just the kind of sportsy Tracy Flick this competition needs. She's in, probably!
And then Jessica Sanchez comes in and tears the fucking house down. She does "I Love You I Do" from Dreamgirls, and you should just watch it below because I can't do it justice. She's beyond her 16 years, performance-wise, and there is no way she won't be in this until the very end. The judges agree, and do so in a clear, concise way! She even makes the judges better! Jessica raises everyone's game!
Oh, hey look! Raising Hope will feature Katy Perry in a broad character role! That will help her self-regard.
Elise Testone also does Adele's "One and Only." Jen did that song, too! The same song twice in a show! It's unprecedented! I'm sorry we didn't get to see the Elise vs. Jen showdown, but clearly nobody blinked. Anyway — and I know this puts my free wine plan in jeopardy — Elise kind of eats Jen's lunch. Much more soulful and lived-in. Elise really needed to break out tonight, and she absolutely did. Good for her.
So! My picks are:
Skylar
Jessica
Hollie
Elise
Shannon
Wildcard: Jen
We'll find out whether I'm right in a — oh God help me — two-hour results show. Six hours this week. You've got a lot of nerve, American Idol. You know what would help me get through it? A nice, full-bodied, locally grown Syrah. Think about it.