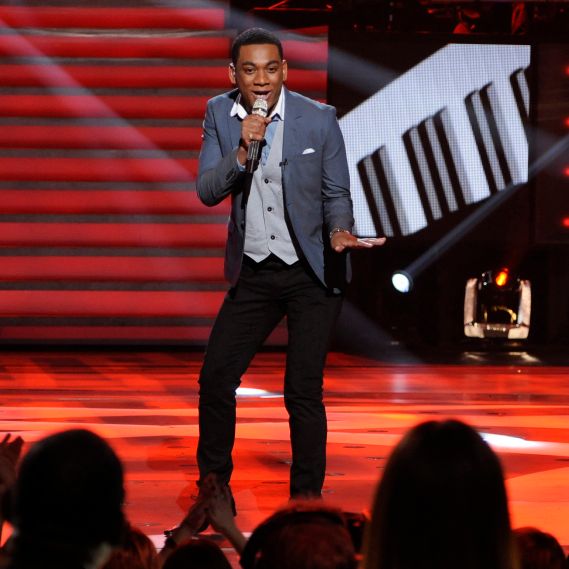 Okay, now we're actually seriously kind of almost getting somewhere. Tonight, the top thirteen take on the songs of Stevie Wonder and Whitney Houston. (Or, more to the point, the top six women have a bare-knuckle throwdown over who gets "I Will Always Love You.") So this is good: two legends with dozens of songs that are just a little out of these kids' comfort zones. Finally, after two months, this show is doing what this show does, and I am ready. Jammin' on the one.
It's American Idol's 400th episode, which is a huge milestone because Ryan Seacrest says it is. As is now customary, the show begins with a zoom on Ryan's terrifying, mirthless power grin. And then there are the judges: Jennifer is resplendent in what I think you would call a pantsuit. Steven Tyler has chosen pants that depict a woman from a Roy Liechtenstein painting. (Her word bubble, not visible from the front, says "Why have you placed my eye so close to this elderly man's testicles?") Randy is wearing a topcoat with a brooch that I call "8-Bit John Oates in Drag." This is going great.
And there is breaking news. Tonight, it's boys versus girls, by which they mean that tomorrow night, the lowest-vote-getting boy and the lowest-vote-getting girl will be the bottom two, and the judges will decide who stays. "It will be very interesting to see this unfold," says Ryan. It will? Because in the ten seconds of your explanation, I took three naps.
First up, Joshua Ledet, with Stevie Wonder's "I Wish." It's a brass-heavy song, so they've brought the horn section of the Idol band out to the front of the stage to jam. You know how some horn sections have been waiting for their moment in the spotlight and when it comes they just eat it up? Imagine the opposite of that horn section. Joshua's performance is of course amazing, but I'm having trouble connecting with this guy, and I don't know why. I think he and Jessica Sanchez are the two best singers in this bunch, but they're also the two I have the hardest time remembering. The judges love it. Also, now, when a contestant is being judged, his or her name is projected up on the Stage Oval in a font that looks like an in memoriam package.
Elise Testone had planned to sing "The Greatest Love of All," until this week's mentors Jimmy Iovine and Mary J. Blige switched it up and gave her "I'm Your Baby Tonight." Have you ever noticed that "I'm Your Baby Tonight" is a boring song? Elise does what she can with it, but there are no big moments for her to tear into. The judges don't love it, and I wish someone would point out that it's the song's fault. I'm worried for her, but if she's in the bottom two, I can't imagine the judges sending her home so early. It's also interesting to note that the song-switch means nobody is singing "The Greatest Love of All," which, I mean, what is that song even for, if not to be beaten to death on American Idol?
May I share my favorite Whitney Houston moment with you at this time? Please enjoy this performance of "I Look to You" from her Central Park Good Morning America concert in 2009, and pay special attention to the gentleman at Cissy Houston's left as he realizes he is on-camera and then becomes conscious of his arms. It is, quite simply, the most delicious thing I have ever seen. Cherish it with a loved one.
Ryan is determined to make "Gentle Giant Jermaine Jones" a thing. God help us. GGJJ has chosen "Knocks Me Off My Feet," and Mary J. gives him advice I've been waiting eleven seasons for someone to say: fewer runs. Thank you! His performance is okay, but I find myself agreeing with Jennifer when she says he wasn't interpreting it enough. He seems so concerned with hitting the notes that you can tell he's not paying attention to the lyrics. Also he sounds like he has a mouthful of food.
I keep liking Erika Van Pelt more and more. She's exactly the kind of person who can benefit from a show like this; your Phillip Phillipses and Jessica Sanchezes are going to find work no matter what, but an Erika Van Pelt needs to be discovered. Do the right thing, people! The judges love her version of "I Believe In You & Me" and so do I, and Steven Tyler is tying scarves around his judges' table microphone now.
Colton Dixon does "Lately," the limpest of the Stevie Wonder ballads as chosen by me. The judges love it, I don't, but I will give Colton points for some truly exquisite eyebrows.
And then there's the evening's one true disaster. Shannon Magrane takes "I Have Nothing," and just completely loses it. She's nervous and pitchy and misses most of the big notes, and that's when you remember that as tall and poised as she is, she is 16 years old. I am more than twice her age, and I would piss myself and cry if I were up there. Anyway, it's not good — so not good, I think her fans will vote for her twice and she'll be safe.
Deandre Brackensick does "Master Blaster," which affords him ample opportunity to display his hair's body and bounce. It's okay, though not all that interesting, but at least there was no falsetto.
Skylar Laine is a perfect example of how sometimes this show can take a perky teenager and make her sound like a 38-year-old dental hygienist. Her "Where Do Broken Hearts Go" is totally lovely, but totally devoid of anything remotely young. Whatever — she'll be fine.
Heejun continues to be a great big weirdo, giving Jimmy and Mary J. autographed pictures of himself (Jimmy's is signed "to Jimmy Ivene," which seems unwise. (There's an Internet now; check that shit!) He sings "All in Love Is Fair," because of course he does. I'd like to see Heejun take on an up-tempo song and have a performance that's as much fun as he seems to be. Wouldn't a "Don't You Worry About a Thing" be a joy with this big goofball? Instead, it's just dreary ballad after dreary ballad for Heejun. PHOOEY.
Hollie Cavanagh is still Australian half the time and nobody seems to want to tell me why. She does "All the Man That I Need" and pretty much nails it. She's another one who needs a big, fun breakout performance, and although this wasn't it, she's probably safe.
Stevie Wonder Night is really always Countdown to "Ribbon in the Sky" Night, and the countdown ends with Jeremy Rosado. Again, here we have someone who is allegedly delightful who always chooses grim ballads. It's fine, but on Stevie and Whitney night, it's impossible to stand out with a slow song when you're eleventh in line. Cheer the fuck up, top thirteen!
Jessica Sanchez won the jousting competition for "I Will Always Love You," and it really couldn't have gone to a more deserving singer. She hits all the notes, and actually manages to pull a surprise out of this smashed piñata of a song when she lets the last few notes go on and on. It is just fantastic. Mary J. makes an involuntary literal squee, and so do I, and if you could keep that to yourself that would be great.
I would like to "have sex with Phillip Phillips," if you catch my meaning. His version of "Superstition" is exactly what you think it is, and he's going to have to break out of this pattern at some point, but we're still in the honeymoon stage of our relationship, so I loved it. So do the judges, so does the crowd, and he will probably win this thing so why are we even doing this?
And that's it! A Stevie/Whitney night with no "As" or "How Will I Know?" Mostly kind of a snooze! I think Shannon, Elise, Jermaine, and Jeremy are in trouble tonight, and it'll be one of the guys who goes home. And I am going to cure my ballad overload with some speed metal. The key is under the mat, Phillip.