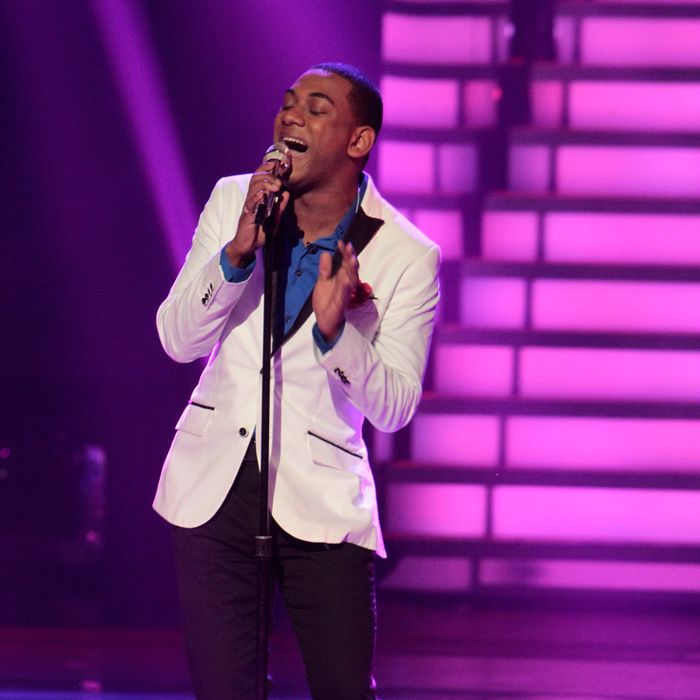 O, the Internet is abuzz with rumors of Gentle Giant Jermaine Jones's dismissal from American Idol, and Ryan Seacrest addresses it right away, in a statement that is Palinesque in its syntax: "You know, through the years, this show has not been without its fair share of controversy. And tonight is no exception. With the cooperation of law enforcement, we discovered information which left us with no choice but to eliminate one of our finalists from the competition. When you're doing a live show, anything can happen. THIS. Is American Idol." Thanks, Ryan; it's all very clear now.
Here's what I think is going to happen: They're going to bring him out, read him his rap sheet, make him sing for his life, kick him off, then bring him back, and repeat the process as many times as it takes for him to fly into a stool-throwing, set-destroying rampage. I have popcorn and a rewind function at the ready. Let's do this.
Tonight's theme is Songs From the Year the Contestants Were Born, or as I call it: Holy Shit, Most of These People Were Born at a Time When I Was Able to Vote. First up: Phillip Phillips, who is fresh out of kidney stone surgery and who was born with part of his bowel malfunctioning. And here's how hot he is: I have just had to type "kidney stone" and "bowel," and I still want to make out with him. He does "Hard To Handle," and it's exactly what you're hearing in your head, even if you've only heard him once. The judges go nuts.
Jessica Sanchez sings "Turn The Beat Around," and will.i.am — who is their mentor this week and who I was hoping not to have to mention, but here we are — calls her a "swaggernaut," because her swagger is from outer space. Shut up, will.i.am. Her performance is a refreshing change from the ballads she usually does, and the judges tell her that she should only do ballads. Shut up, judges. With the cooperation of law enforcement, can we eliminate all of the adults from this competition?
Heejun's parents are super-adorably old-school Korean, and apparently do not speak a word of English. And Heejun continues his streak of choosing songs that don't show off his personality. His "Right Here Waiting" is a great big snoozeburger, and the judges agree. Be more fun, Heejun!
Elise goes with Tina Turner's version of "Let's Stay Together" and is all smiles, having possibly gotten the memo that she looked like she was trapped in hell for both shows last week. It's pretty good! The judges think so, too! I still worry about her!
Deandre does "Endless Love," and I should point out that so far all but one of the Songs From the Year the Contestants Were Born have been covers of songs from years before, and the one original was by Richard Marx. So that's the kind of night we're having. Anyway, he does as well as one can with "Endless Love," which is a song nobody needs to hear another time. The judges are on the same page with me. That's a strange feeling.
Shannon Magrane almost goes with No Doubt's "Don't Speak," which would actually have been interesting, but Shannon Magrane continues to be aggressively non-interesting by opting for Mariah Carey & Boyz II Men's "One Sweet Day." Have you listened to the last two minutes of that song recently? They are the most hilarious vocal jack-off contest in music history. Unfortunately for Shannon, when that song is stripped down to one over-singer instead of five, you realize there is no song there. The judges love it, I do not, they are wrong.
Colton Dixon was born in 1991, and he promises a song that most people aren't familiar with. Ooh, I think, a Nevermind album track? Some Teenage Fanclub or My Bloody Valentine or "Johnny Mathis' Feet" by American Music Club? And here's all you need to know about Colton Dixon: He chooses "Broken Heart" by White Lion. This is what we're dealing with, people. It's fine. It's fine. Steven says it's the wrong song for him, the crowd boos, and he replies: "Oh, raspberries." Steven Tyler is Carol Channing in "Thoroughly Modern Millie."
Erika Van Pelt makes some much-needed timing changes to Bryan Adams's "Heaven," yet another song on which we have all hit our quota. She does well enough, but one cannot sing this song without sounding like a wedding singer. The judges like her voice, but don't like her changes, and someone in the audience responds with one loud, clear "BOO." Tasty.
And then we get to the Jermaine Jones situation. Now, this is not the first time someone's been let go from this show once it's up and moving. But this is the first time they're showing us someone get canned on camera. And it is awful: Nigel Lythgoe and Trevor Darkwynge or whatever read Jermaine's rap sheet right in front of him, like Dianne Wiest going through Martha Plimpton's sex snapshots in Parenthood. Why are they doing this to him? Why are they doing this to us? Oh, I know: It's because this show, which is 85 percent filler on its best night, couldn't move fast enough to find any other way to fill this four minutes. That's sloppy. Guys, leaving the apparent lack of a thorough background check aside, if you can't slide something in there — another Ford music video, some behind-the-scenes outtakes, four uninterrupted home-video minutes of Phillip waking up — then you should be called to the carpet and fired on national television. It's gross and I hate it and they show us some rehearsal footage of Jermaine doing "Somewhere Out There," which probably would have gotten him voted out anyway. Good-bye, Gentle Giant With Several Warrants Out for Your Arrest Jermaine Jones.
Skylar Laine is what would happen if a slice of pecan pie came to life. She does "Love Sneakin' Up On You," and it's way too much of a Listen at Work Station song for her. You know what I mean? Some songs make me want to dance, this song makes me want to be the eighteenth caller and know the Phrase That Pays. It's boring, she's not, but I'm sure she's fine.
Joshua Ledet has been sent a massive pail of crawfish by the state of Louisiana for some reason. They wheel it out and make him demonstrate how to de-shell one, but not before bringing out some pre-teen girls from backstage, who have apparently won some kind of Stand Onstage in Silence While a Singer Pulls the Head Off an Animal Contest. It's just the kind of spontaneous, fun moment this show does best. Joshua then bludgeons "When a Man Loves a Woman." On a scale of one to ten, the song starts at a ten and goes up, up, up from there. Listen: it's clear that he has an amazing voice, but I would love to see some restraint. Jennifer says it was the best thing she's ever seen on American Idol, so there you go. Though she was not directly involved, I lay the blame at Christina Aguilera's feet.
Hollie Cavanagh closes out the show, and I finally understand the story behind her accent: Her parents are from — and I'm usually pretty good at picking this out — some other country somewhere. She does "The Power Of Love," and okay: I know they have to truncate these songs to fit them all into one two-hour show, but they pull out half the bridge, which turns the lyrics into: "the sound of your heart beating / is light-years away." Which makes no sense. Vocals-wise, it sounds a bit off-key to me, but the judges love it.
So there it is. We have taunted a giant, said "swag" a million times and allowed will.i.am to continue to think he's funny. I think Shannon and Elise are in trouble, and I know I am very old.