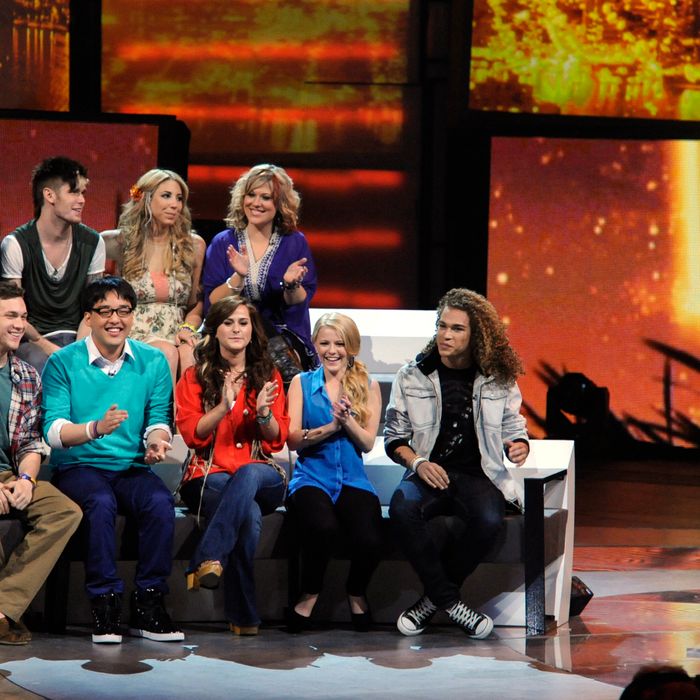 Photo: Michael Becker/FOX
This week is one of the most brutal cuts of the season, promises Ryan, because only the top 10 can go on the summer Idol tour. I tell you what, American Idol: You promise me some Phillip Phillips, I go see the tour this summer.
One of our judges is on the cover of Vogue, let's see who it is! It is Jennifer, obviously, and Randy yells out, "WHAT? I thought it was ME!" Jennifer goes on to announce that she has a new single coming out: "I know people have been wondering about that, and it's coming out March 29. Also, there have been rumors about who's directing the video, but it's Paul Hunter." So there you go: Jennifer Lopez lives in a world where there are rumors about her singles and videos. Randy yells out: "WHAT? I thought I was directing that!" Man, we have some fun around the judges table.
It is also announced that Tommy Hilfiger will be the contestants' styling mentor as of next week. He says he wants "all of the contestants to have their own unique style," preferably always with great big H's across their chests.
This week's Ford music video has them all in a haunted house, ghost-hunting with tools pulled out of a box labeled "PARANORMAL EQUIPMENT." And then in the house, spookin' it all up, are ghost versions of Hollie, Deandre and Gentle Felon Jermaine Jones. But then they become non-ghosts and everyone hugs. It's really great. Buy a Focus, you guys.
Finally, it's time to start bottom-threeing people. Phillip, Skylar, Elise and Joshua are up for review first, and we all know where this is going, right? Right. Elise is in the bottom three. She immediately frowns and sprints to the Shame Stools. Elise has no poker face.
Demi Lovato performs some song about giving your heart a break, and all I notice is her vintage Guns N' Roses T-shirt. That old concert-T trend is still hanging on, huh? What's it been, twelve years now? Can we get Tommy Hilfiger up in here?
Back to eliminations! Deandre, Colton, Jessica and Shannon are up for review. And now that there are eleven contestants instead of twelve, Jimmy Iovine has 45 minutes to opine on each of them. Man, this dude can talk. He's mostly correct, but still. Can't we use this time to shame Jermaine Jones some more? Ryan says to Colton: "You had an unfamiliar song choice this week, and I'm afraid it cost you …" Come on. "… the opportunity to be with your family for another week." Ryan, stop this right now. Colton is safe, Jessica is safe, Deandre is … safe! That puts Shannon in the bottom three, and I'd like to say "I told you so," but the more I watch Randy Jackson, the more I realize how graceless it is to insert yourself into every situation. (But I called it.)
Daughtry performs his latest single or his oldest single or one of the singles in between — I honestly can't tell and neither can you. Is it me, or does it undercut a bit of the forced drama to have Daughtry up there? Like: "Only one of these people will be the next American Idol; here comes a multi-platinum artist who didn't win, from the Taylor Fucking Hicks season." Raspberries.
Our last remaining contestants are Heejun, Hollie and Erika. I should point out that through the show, if Jimmy makes a comment about Randy's bad judging, the producers mortise in a live shot of Randy's reactions. They're really trying to create some tension here. And in this moment, it happens: Jimmy rejects Randy's assessment that Erika's performance was too busy, and back in the studio, they go another round. I was right! No, I was right! Which leaves three contestants standing up on stage waiting to hear their fates, enduring a slapfight between two zillionaires. Erika is in the bottom three! This is some bullshit.
Elise is safe! Which means Erika and Shannon are our bottom two, and singing for her very life is … Shannon! And her sing-for-your-very-life song is … "One Sweet Day" again. Oof. Shannon, you're aware that this is a song about mourning, right? It's an underwhelming performance of a bummer tune. There's no way the judges will use their save on her, and the rest of the contestants know it: Hollie bites her lip, Erika and Elise clap politely, Heejun puts his finger under his shirt collar, pulls on it, and goes, "LLL-LLLL!" (Not really.)
And indeed … no save.
So that's it for Shannon. Her dream ends forever and we'll never see her again, unless she gets a record deal, which she probably will, and becomes a huge star like Daughtry, thank you and goodnight!