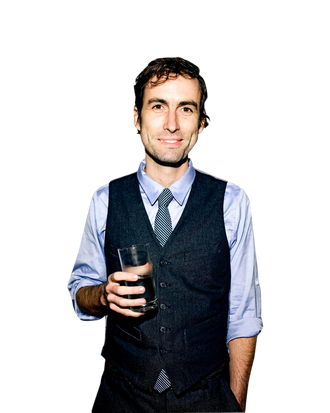 Andrew Bird.
Photo: Cameron Wittig
Andrew Bird is known for writing lovely, offbeat, fiddle-filled songs, and his latest album, Break It Yourself, is no exception. (You should stream it!) Vulture spoke with him ahead of today's release about how the violin affected his childhood, Japanese music lessons, and why he's not too eager to blow up.
You took violin lessons as a kid. Did anybody try to beat you up because of that?
[Chuckles] No. Well, at least not because of the violin. And I don't have any sad stories about practicing by the window, watching everyone outside playing ball, either. But later, yeah, I got hassled a lot by other kids. I come from Lake Bluffs, Chicago, a really conservative place. I was weird. To them, anyway.
You learned your instrument through the once-controversial Suzuki Method, right?
Yeah. It was great. I don't know why people were so skeptical about this way of learning an instrument. Instead of being forced to deal with sheet music, you learn by ear. I started when I was 8 and I loved it. Eventually, I learned to read music and got serious about the instrument. One of the reasons I think my stuff is pretty original is I only listened to classical music as a kid. No pop. It was a plus, I think.
You have a pretty sizable audience, but you're not a big star yet. Has there been any pressure from your various record companies to have a huge hit?
I've been pretty smart about it, I think. Especially with this new record. I made it before I had a [new] label. So, they had to take it as is. I'd be happy to have a big record someday, but I'm not going to force it. I like the Black Keys, but I think they finally said, "We're going to write a cute little pop song and have a smash." And it worked. I can see its value. To a point. Still, I'm doing fine, doing things my way. I like the idea of a slow build. It means I might be around longer than some other people.
You played with the Squirrel Nut Zippers for a while. Did they make you wear a zoot suit?
No. That was really a great experience, actually. And they only got pegged as a forties-style swing band because of the trend at the time with Big Voodoo Daddy and those guys. The Squirrel Nut Zippers were actually more original and harder to categorize than that.
On the new album, there's a song called "Eyeoneye." In it, you talk about how if nobody breaks your heart, "You break it yourself." It's a pretty dark thought.
Believe it or not, I meant it to be sort of positive. So much is done for us in society these days, due to technology and stuff. It's a reaction to that. The idea that there's something you can still do yourself is pretty optimistic. Even if it means breaking your own heart.
You had a song in the most recent Muppets movie. How did that happen and what was your reaction to it all?
I basically just read the script and wrote some four songs on spec. They needed a tune in which Kermit the Frog has to really express his feelings. I came up with "The Whistling Caruso" and they loved it and used it. It was really gratifying. I felt like a Tin Pan Alley songwriter, who has to come up with something that was ordered. And somebody bought it! They used it well in the movie; the whole thing was thrilling.
The song "Dance Caribe" on the new album seems to have a real Van Morrison/"Astral Weeks" feel to it. Am I reading into that?
You are. I never listened to Van Morrison growing up, though I know he's the real thing. After my classical studies, the first "pop" music I liked was [jazz guitarist] Django Reinhardt and [violinist] Stephane Grapelli. As I mentioned before, I was kind of an odd boy. While other kids were dressing up in black and playing Goth, I was learning concertos.
You've been on David Letterman twice. What's that been like?
Cold! Both times I had to wear a winter jacket onstage and throw it off, like, five seconds before I was about to play. The band and I have all this technical stuff we have to worry about and things that go awry. You're mostly worried something is going to explode and ruin a take and they have so little time to redo stuff. So, it's kind of a drag to worry about being cold, too. A little secret about Paul Shaffer and the band? They all have heaters under their chairs. It's great playing Letterman. But I wish they'd find a way to warm that place up.