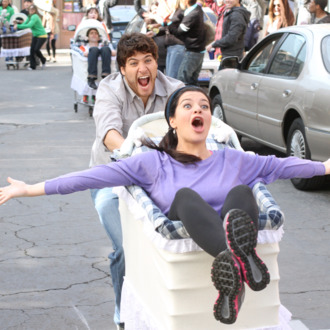 HAPPY ENDINGS - "The Kerkovich Way" - A panicked Alex enlists Jane's help in convincing Dave that something he's certain happened never did, but will they succeed? Meanwhile, Penny and Max are determined to finally beat an annoyingly perfect couple (Morgan Walsh as Julie, Brice Williams as Justin) in the annual Rosalita's Run and Scavenger Hunt, on "Happy Endings," WEDNESDAY, MARCH 7 (9:31-10:00 p.m., ET) on the ABC Television Network. (ABC/MICHAEL ANSELL) ADAM PALLY, CASEY WILSON
Photo: Michael Ansell/? 2012 American Broadcasting Companies, Inc. All rights reserved.
After next week's season finale, ABC's Happy Endings will be going all GhosProts on us until September. Bummer, yes, but here's a tiny sliver of good news: Vulture will be talking to series creator David Caspe in just a few hours, and we would be happy to ask him a few questions on your behalf. Tell us what you'd like to know in the comments below. And no, we will not ask him if the Trove (TM) is a real thing.