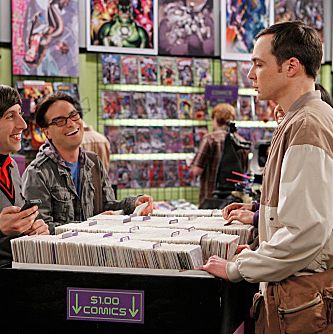 Viewers can not watch The Big Bang Theory too many times.
Photo: Cliff Lipson/CBS
The Big Bang Theory has been a hit for CBS since its first season, and it is now helping the network challenge NBC's Thursday-night sitcom supremacy. But nerd power has a hell of a half-life: Over the past year, the Chuck Lorre–Bill Prady–created comedy has become a juggernaut in reruns: It's not only the No. 1 show in syndication among viewers under 50 on local stations, but as a result of TBS wallpapering its schedule with Sheldon and Leonard (eighteen episodes a week in prime time!), today the station will be declared the No.1 cable network in the desired 18 to 49 demo for the first quarter of 2012. This is one hell of a big bang: It's the first time since 2006 that USA has not dominated the winter quarter. And it provides an important bit of perspective that for all of the spotlight on original programming, network hand-me-downs are still a crucial staple of any successful cable channel.
Just look at some of the amazing stats that BBT has racked up for TBS:
- So far this year, BBT stands as the No. 1 comedy — first-run or repeat — on all of cable in both total viewers (average audience: 3 million) as well as in the demographically desirable group of adults 18 to 49.
- In overall audience, BBT repeats now beat out first-run episodes of cable comedy champs such as South Park (2.6 million for last week's season premiere) and Archer (1.7 million). On some nights, repeat episodes of BBT have drawn bigger demo ratings than first-run shows on the broadcast nets. 
- By smothering its schedule with Sheldon & Co. (three full hours on Tuesdays; two hours on Wednesdays, Thursdays, and Saturdays), TBS has seen its prime-time ratings among viewers under 50 jump an insane 37 percent, rising from an average of 881,000 viewers in the first quarter of 2011 to 1.2 million this winter.
"It's our tentpole now," says Michael Wright, who oversees all programming* as head of both TBS and sister network TNT. "It's lifting the entire network, with increased [audience] circulation all around … a halo effect." The exec adds that while original productions can be key to a cabler's brand identity, "If you go back and look at [cable ratings] over the past ten years, the No. 1 network is usually the network that has biggest acquired series." Indeed, USA's impressive roster of breezy crime dramas were birthed on the back of countless repeats of the CBS drama NCIS; before that, TNT was the Nielsen champ because of its endless loop of Law & Order repeats, which provided fertile lead-in soil to grow The Closer into a game-changing hit. Even critically beloved nets use acquisitions to boost the bottom line: Reruns of Lorre's Two and a Half Men and CBS's How I Met Your Mother have been key to FX's prime-time fortunes.
All of this explains why Wright didn't hesitate to bid what was a then record-breaking $1.5 million per episode for BBT reruns when they became available about two years ago, beating out rival offers from FX and USA, among others. But it also helped that BBT seemed to be almost genetically engineered for the TBS brand. "It had [both] broad appeal … and a real targeted appeal to the part of the comedy audience that we're trying to attract," Wright says.
While TBS's big bet on BBT seems to be paying off, such massive acquisitions can — and have — backfired. According to syndication industry trade journal Broadcasting & Cable, at the end of 2009, TNT wrote off $104 million in losses related to its purchase of Without a Trace repeats. The network had hoped the show would be its new Law & Order, but viewers simply didn't show up. (A&E's 2005 purchase of The Sopranos was also disastrous, the magazine says: It paid a stunning $2.5 million, then watched ratings for the heavily edited reruns sink.)
In its fifth season, BBT is only getting stronger in both reruns and first-run: While ratings on CBS took a predictable hit last season after the show moved from its comfy Monday perch to the more crowded Thursday field, BBT now regularly beats Fox's American Idol and is currently on track to have its highest-rated season ever. It's the No. 1 comedy on TV in viewers (16.4 million) and second only to Modern Family with folks under 50. But it may actually be the long tail that is wagging the dog here: Some observers believe TBS's repeats may be boosting ratings for the originals. "The exposure and promotion it's gotten on TBS has definitely helped," one industry analyst told Vulture. "They promoted the hell out of it during the baseball playoffs." (CBS insiders also credit Lorre and Prady for broadening out BBT's appeal by bringing in more female characters and giving them meatier story lines.) The ratings are so strong that industry insiders now believe the odds are better than 50-50 that CBS will use the Power of Bazinga to expand to four sitcoms on Thursdays next fall, marking the first time in nearly twenty years that any network has challenged NBC for sitcom supremacy from 8 to 10 p.m. (Fox tried, and failed, during the 1993–94 season with a lineup which included The Simpsons, In Living Color, and … Herman's Head).
Back over at TBS, BBT is already being used as a building block. Most significant is that the show has been a major boost to Conan O'Brien's 11 p.m. talk show. Conan had already been getting a modest boost from TBS's Monday block of Family Guy repeats (which are still doing well). But since last October, when TBS started supplying Conan with BBT lead-ins on Tuesday, Wednesday, and Thursdays, the talk show saw its overall audience jump to 1.1 million nightly viewers this winter, up 22 percent since last fall. Among adults under 50, Conan has seen a 17 percent spike. Wright says that the BBT-Conan synergy was one of the reasons TBS ponied up the needed dough to get BBT. "We wanted to build a lineup around the tentpoles of Conan, Big Bang, and Family Guy," he says. "The hope was that those three pieces would work together … to really solidify the comedy brand of TBS. And so far, so good."
TBS will next try to use BBT to help it establish a toehold in original comedy programming, as Law & Order did for TNT. "Up until Big Bang, we didn't have an ideal lead-in for [first-run] comedy," the exec says. "Family Guy is awesome, but it has a very specific audience. And The Office, while it's a great show, wasn't a big-tent hit on cable." He'll test out his lead-in theory starting May 24, when the new Danny Masterson half-hour Men at Work debuts at 10 p.m., sandwiched between BBT reruns. Then on July 19, Men will give way to the Cheers-like Sullivan & Son, a Vince Vaughn–produced comedy about a young Korean-American (Steve Byrne) who takes over his family's watering hole. 
The success or failure of these first-run offerings is no small matter. Because as beneficial as reruns can be as a lead-in, original shows still generate the bulk of cable networks' profits. For one thing, cable operators pay higher subscriber fees for networks with programming viewers can't find elsewhere. And Madison Avenue also values originals: Even if a first-run show draws notably fewer eyeballs than a comedy repeat, "The [cost per ad unit] on the original is going to be much higher, maybe three to four times as high," says one person familiar with the ad-buying economics. That's because ad buyers believe viewers are much more "engaged" while watching a "new" show, while those audiences catching a BBT repeat may not be fully paying attention to the show because it is so ubiquitous (network, cable, syndication, streaming). "You can't rely on building a network around repeats anymore," one industry wag says. "You've got to be in the original business." So while Big Bang may be a big hit for TBS, it's now up to the network's execs to figure out the rest of the profit equation. And they might want to hurry: Repeats of Modern Family debut on USA in fall 2013. 
Follow Josef Adalian on Twitter at @tvmojoe.
* This post has been corrected to note that Michael Wright is in charge of all programming for TBS and TNT, not just original programming.