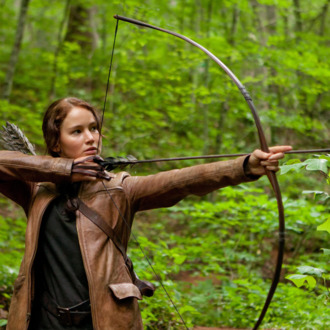 Jennifer Lawrence stars as 'Katniss Everdeen' in THE HUNGER GAMES.
Photo: Photo credit: Murray Close
Like a Career tribute at the Cornucopia, Hunger Games destroyed the box-office competition this weekend, and now it has moved on to other, non-movie-related sales charts. The Hunger Games soundtrack — featuring Taylor Swift, Arcade Fire, the Decemberists, and Kid Cudi sounding insane — landed the No. 1 spot on this week's Billboard 200, with 175,000 copies sold. Adele is still holding on at No. 2, while One Direction, who made history last week with their No. 1 debut, slipped down to No. 4. (Also, this totally unconfirmed U.K. tabloid report says that the 1D boys have been forbidden from having sex while on tour, so good luck with that, dudes!) Anyway, yes, The Hunger Games continues to be very good at making money.