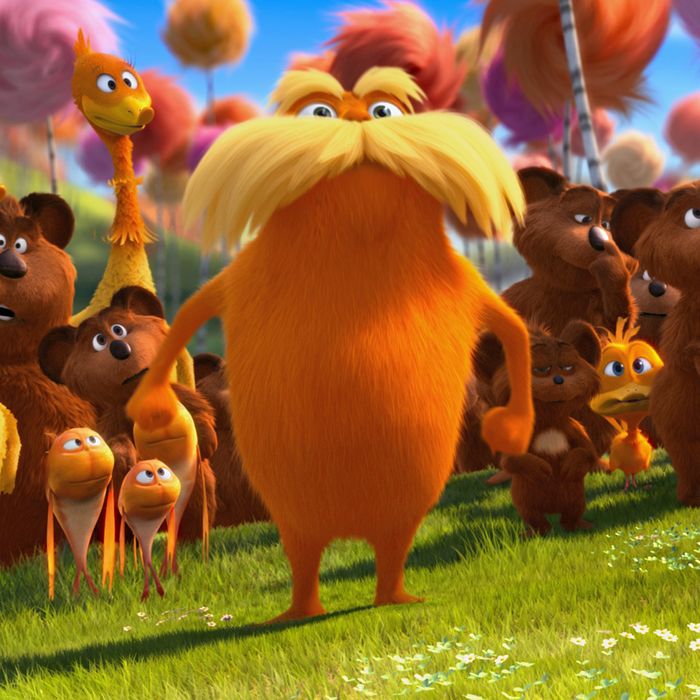 Photo: Universal Pictures and Illumination Entertainment
This Weekend's Winner: The Lorax spoke for the trees and audiences spoke for The Lorax, with the Seuss adaptation handily besting three newcomers and claiming No. 1 again with another $40 million on top of its remarkable $70 million opener. (One more victor is the overall box office, with the results in positive territory for the tenth week in a row — yay movies!)

This Weekend's Losers: Taking second place with John Carter is decidedly cold comfort for Disney. Its $30.6 million opening was actually far more — some $5 million more, actually — than the studio was resigned to make, but still roughly half of what the film needed to open at if it were ever to see profit. Equally pathetic was the release of the Eddie Murphy comedy A Thousand Words; it had been malingering in the can for the last four years, and clearly, with its $6.4 million opening, Paramount would have been better served by keeping it there indefinitely.
How It All Went Down: Disney managed to flush a quarter-billion bucks down the drain with John Carter, but this weekend's box office math is hardly the stuff of superstring theory: The Lorax carried the day because it was the one safe bet for families in a marketplace bereft of family films. Like the dismal John Carter, the moldy Murphy comedy A Thousand Words also got itself a PG-13 rating. Clearly Paramount wasn't expecting much from it either, sending Words out to only half the usual amount of theaters, perhaps as an act of compassion to moviegoers, who nonetheless sneered and gave it a B- CinemaScore.

Finally, a special note of scorn goes out to the Elizabeth Olsen fright-fest Silent House. A remake of the 2010 Uruguayan horror film La Casa Muda, shot all in one take by the same team that made Open Water, might have sounded promising: After all, the original cost just $6,000; the remake, $2.5 million, or some 400 times what was spent on the first film. But being made for vegetable scraps, audiences responded appropriately enough by throwing tomatoes. Silent House received an F CinemaScore — only the seventh failing grade ever issued by in the audience research company's 30-year history.