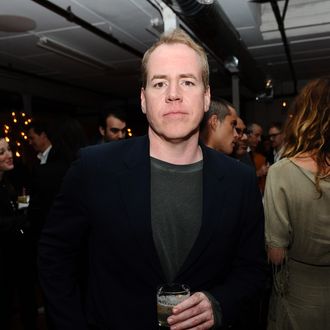 Photo: Michael Buckner/Getty Images for Dewars/2010 Getty Images
Bret Easton Ellis, who of late has spent a lot of time soapboxing for porn stars and settling debates about what is or is not Post Empire, can also still give good quote, as he did recently to the Paris Review. In that interview (which is out Monday, and which Ellis has already acknowledged may "cause some problems"), he addresses his general fatigue with the New York literary scene, and more specifically, the mini-backlash that followed the publication of Jonathan Franzen's Freedom. Bret Easton Ellis did not enjoy that! The relevant passage:
The general snootiness about Franzen's success that you could smell wafting off the literary scene grossed me out and became indicative of something ominous to me. The Corrections and Freedom are the two best novels that came out of my generation, so man-up and deal with it, guys. It came to a point where I just couldn't put up with the pettiness of it all anymore. Being confronted by it was making me miserable. I didn't want to go to another PEN dinner. I didn't want to hang with these people. I didn't want to have cocktails in the lobby of the Museum of Modern Art and sit at a table and listen to writers give speeches. I didn't want to go to another book party at Pravda, or at a loft in Tribeca. I found myself thinking more often than not when I'd receive an invitation, I'd rather cut my head off with a knife."
Okay, but important follow-up: Does he know about Jonathan Franzen's Twitter opinions? Even if he hates MoMA and Pravda and everything else, Bret Easton Ellis really likes tweeting. Do those loves cancel out? Discuss (or wait for Ellis to, on Twitter).