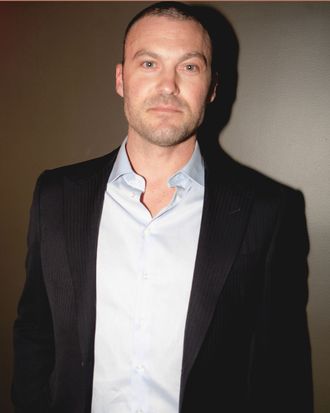 An eyeliner-less Brian Austin Green.
Photo: Nicholas Hunt/PatrickMcMullan.com
It's no secret that Megan Fox hadn't seen a single — single! — episode of Beverly Hills, 90210 when she met Brian Austin Green (a.k.a. 90210's David Silver). So when we saw him at a Cinema Society screening of Friends With Kids last night — he was waiting for Megan, who stars in the movie, to finish a red-carpet video — we had to ask: Has he finally sat her down to watch an episode? "No," he told us. "She tries to sneak them on SOAPnet. And then she gets in trouble for it. We have a rule: We don't watch each other's stuff."
Vulture then began to walk the fine line between interviewing a celebrity and fanning out on him. "Let's say she were to watch an episode. Can we please pick one out together?" This made him laugh (phew!), but it did not make him choose an episode. And so to get the ball rolling, we suggested the one where Scott accidentally shoots himself. "Yeah, why?" he asked. It's a big dramatic episode for him, we explain. Remember the monologue in the D.J. booth? Nobody gave a damn about Scott until it was too late! "I love that you remember that," he says. He barely does.
As for his favorite episode, he insists he doesn't have one. "Honestly, it's one big blur. We did 300. I remember guest stars more than story lines." Oh, in which case, how about the one with — wait, we're blanking … that R&B group —
"Color Me Badd?" he offers. Color Me Badd! "They were huge at that time," he says. So it was a big moment for him, we guessed. "It was a big moment for me," he conceded. "Was it a big moment for you?" He may be onto us. But we keep going.
What kind of memorabilia does he have hanging around from the show? "I actually didn't keep anything. The only thing I have is a picture that we took with Aaron Spelling when we won the People's Choice Award. He got the award; we got a picture with the award. It's kind of fucked up [laughs]. But I guess he's the one that won it." And who does he keep in touch with from the cast? "I keep in touch with everybody from the cast. I talked to Luke before I came out here; I talked to Jennie before I came out here. I'll be seeing Luke and Jay in a couple of weeks. I see Ian all the time."
And there you have it: We may never see a 90210 reunion on TV, but we can all have this little fantasy of the gang (minus Brenda, she's in Europe) hanging out together forever.