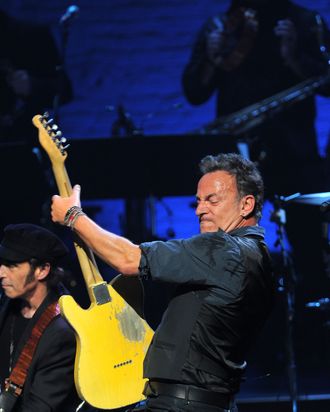 Bruce Springsteen sweats through a powerful night at the Apollo.
Photo: Larry Busacca/2012 Getty Images
Bruce Springsteen introduced himself onstage at the Apollo Theater on Friday night as "the hardest working white man in show business." He was, of course, referencing the intro on the legendary album James Brown Live At the Apollo. But considering the pace, dynamism, sheer entertainment value, and soaking wet state of the Boss's shirt at show's end, Springsteen made a strong case that he truly deserves the title.
The gig — sponsored and broadcast live by Sirius XM to celebrate its tenth anniversary — was meant as a warm-up for the band's forthcoming U.S. and European tour in support of their new album, Wrecking Ball. (It officially begins March 18 in Atlanta.) But for the E Street Band, "warm-up gig" means a two-hour-plus-long set played in front of Tom Hanks, Bill Bradley, Elvis Costello, Catherine Zeta-Jones, and Michael Douglas, among others.
They kept all the famous people downstairs, while upstairs in the balcony were the press and superfans. I sat in the midst of two couples — dudes in matching pastel cashmere sweaters over paunch bellies and stiffly starched collared shirts, wives in giant fake pearls and chambray. Before the show started, the guys debated possible set list selections and pointed out members of the crowd that looked like their old priest while the wives looked trapped. As the lights dimmed, and the band bulldozed its way through a muscular, confident take on the album's first single, "We Take Care of Our Own," the wife sitting next to me turned to her husband, smiled, and said, "Okay, I get it."
It really is that simple with Springsteen, indisputably one of the greatest live musicians around even at age 62. He doesn't pretend to be young (though he looks damn good) or cool (which he still is) or pander to the wonky bro'd out guitar-rock dorks who worship him (though the band is as tight and well-oiled a musical machine as rock's ever seen): He just tries really hard. The set pulled heavily from the new album but also included a well-balanced mix of old faves, including an ecstatic, giddy rendition of "The E Street Shuffle," plus "The Promised Land" and a spine-tingling take on "Thunder Road" that was half sung by the crowd. The Boss also took several opportunities to honor the recently deceased saxophonist and rock legend Clarence Clemons, who passed away last summer.
Part of what's exceptional about the Bruce Springsteen live experience is the way he blends pro-rock-star dictatorial perfectionism with a kind of sweet corniness. This was the E Street Band's first formal gig ever at the Apollo and in addition to the James Brown homage, Springsteen also organized a tribute to the greats who made their name on this historic stage. Mid-set he gathered his band up in a line like kids about to perform a routine they made up for their parents' friends after a dinner party. "All the men and women who worked on this stage were our teachers, they schooled us and we hope to deliver on just one small piece of their promise," he preached as his band ooo-woo-ooo'd behind him, moving in a choreographed doo-wop sway. "We studied all our subjects. Geography: We learned the exact location of Funky Broadway from Wilson Picket. History: Change is gonna come from Sam Cooke. Math: Ninety-nine and a half won't fuckin' do! Wilson again. Religion: Aretha Franklin. Sex education: Marvin Gaye. We were imparted with the wisdom of Solomon Burke and of course there was the poetry of Smokey Robinson." Then they launched into a riotous cover of the Temptations' "The Way You Do the Things You Do," written by Robinson and Bobby Rogers.
As the audience stumbled out onto 125th Street postshow and buses lined up to deliver the suburbanites to Penn Station and Grand Central, I found myself wondering how many people think of a Bruce Springsteen gig when recalling the best night of their lives. He's built a career commodifying that big, warm, generous feeling of going out hard on a Friday night, after you've gotten paid and before the reality of Saturday chores sinks in. Forty years in, business is as good as it's ever been.