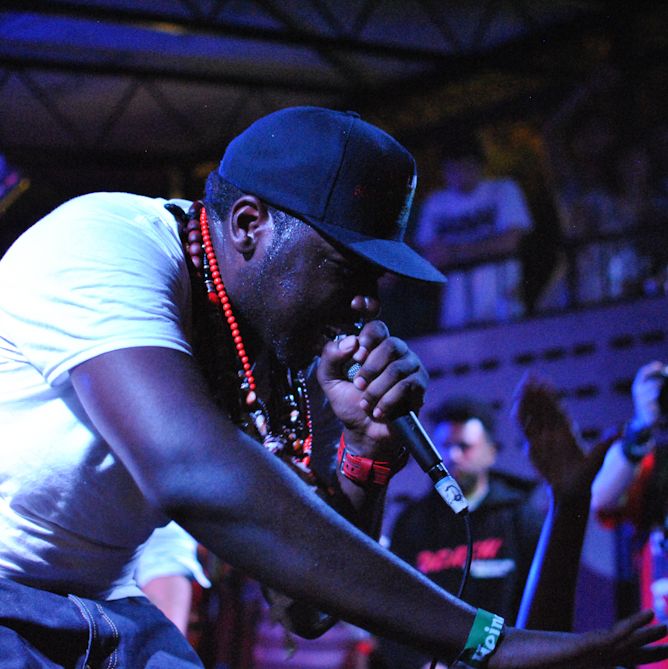 Mr. Mothafuckin eXquire works the crowd at SXSW.
Sometimes I find myself wishing I didn't know a single other person down here in Austin this week, if only so that I could go home at night having heard slightly fewer reports of great shows I didn't attend. Here are some things I can report to you secondhand, diligently sourced via running into people and/or smartphone and/or eavesdropping, concerning Wednesday's shows: Fiona Apple's set at Stubb's was not just the sort of thing people would be "raving about tomorrow," but the sort of thing people would scatter across the whole of downtown Austin to rave about immediately — especially the new material. Carson Daly spent a song playing drums for San Francisco garage-rockers Thee Oh Sees; one attendee seemed unsettled by the unfamiliar sight of Daly moving around/looking enthusiastic. Kanye West appeared with Atlanta rapper 2 Chainz at an anniversary party for the New York venue S.O.B.'s — though the sense of a surprise Kanye appearance here being a Big Deal has clearly slumped a bit lately. And Consequence of Sound's daytime showcase was a perfect storm of great indie-rock bands, the energetic punk types stealing focus from the chilled-out synth ooze that's surrounded indie acts over the past few years: Screaming Females, Cloud Nothings, the Men, and Titus Andronicus, that last act debuting new material people would spend the day raving about in registers just below the one for Fiona Apple.
Me? I spent the evening across the road from Titus Andronicus's last show, hanging around a mostly-hip-hop showcase at Lustre Pearl. Rap shows always feel like a mixed bag down at SXSW. On one hand, the circumstances are perfect for them: Rappers can set up and take the stage within minutes, keeping up a steady flow of short, energetic sets, instead of the 30 minutes of music and 30 minutes of amp-lugging that alternates between rock bands. And while a lot of people's attitudes toward up-and-coming rappers used to be bizarrely cynical — as if rap were the sole province of larger-than-life stars, and anyone who's not there yet is engaged in some form of embarrassing imposture — we currently have a thriving economy in what I'm almost tempted to describe as "buzz rappers," fresh styles and personalities and mixtapes for the devoted to sort through like a new shipment at the comic book store. On the other hand? Rap shows tend to thrive on direct audience engagement, and there is nothing more awkward and heartstring-snapping than the sight of MCs trying and failing to rouse crowds of exhausted people who are actually just waiting for the next act or mashing at their phones, trying to figure out where their friends went.
No such problems presented themselves to Action Bronson, who introduced himself, boxer-style, as "315 pounds, from Queens" — this huge Albanian rapper and one-time chef who manages, from the name on down, to seem as if a comic-book artist who was really into nineties New York hip-hop just plain made him up. He has vaudevillian comic timing, slow-moving big-guy swagger, a constant chuckling half-smile, and a kind of high confident wheeze that made at least two people near me in the audience describe him as "the reincarnation of Ghostface Killah," even though Ghostface is perfectly alive and his Wu-Tang compatriot GZA would be in the audience within the hour. "I'm about to rap," Bronson said. "This is a new song. Put it on." The whole crowd was with him from there.
It took a tiny bit more work for Mr. Mothafuckin exQuire, a New York rapper who's as stubbornly gritty as he is stubbornly weird — his set is all giddy and antisocial, delivered in the stentorian, lecture-like tone of a tough eighties rapper, over blown-out, corroded, chaotic beats. The set's real star turned out to be the Bronson-sized fan in back who was caught eating tacos when it began. First he started throwing his hands in the air, with tacos still inside them, waving tacos like he just don't care, plus taking occasional, remarkably graceful bites. Then he gave up and generously offered the tacos to kids watching through the fence. ExQuire knows how to get a SXSW crowd moving, and here is his secret: Start with about twenty people onstage, then just rush them all into the audience, and take over by force.
Or you can do it with one person. After exQuire, the showcase turned to punk, with the gloriously bratty San Diego act Wavves sneering through songs from their last record. Two minutes in, the guy next to me made a bid at starting a mosh pit, succeeded, and then spent the rest of the show watching it proudly. It was the most scattered, flailing mosh pit I've seen in years, and in true SXSW fashion, one guy — who had apparently been hired to go around patting promotional stickers onto people's backs, turning them into unwitting human advertisements, and hopefully dooming everyone who thought of the exercise to a very special circle of hell — stood at the fringes of the pit, tagging stickers onto people as they crashed into him. Even moshing is an advertising opportunity here.
The most gorgeous thing I saw Wednesday, though, came in the afternoon, in a small dark room in east Austin, at Brooklyn Vegan's "Hotel Vegan" day party. On the outside stage, Frankie Rose was playing material from her charming new album, Interstellar, songs that made the space feel like an Anglophilic college radio station having a barbecue circa 1987. Inside, though, was Deafheaven, a San Francisco metal band with one foot in the world of hazy, oceanic shoegazer music — their sound is grandiose, beautiful, and achingly romantic, and walking into a room where they're playing live conjures up roughly the same feelings as walking over a hill and seeing an epic set of cliffs or a massive waterfall. Their first album, Roads to Judah, was released last spring, and doesn't seem to be remotely done catching the attention of people beyond metal devotees — especially if their shows here are anything to judge by.
Photo: Rob Hakimian/Beats Per Minute.