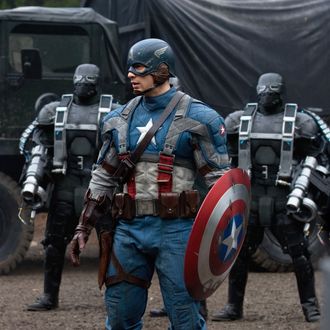 Chris Evans as Captain America
Photo: Jay Maidment/Marvel Entertainment
While Captain America had to share director Joss Whedon with five other superheroes in this May's Avengers, Vulture hears that the search is narrowing for someone to helm the patriotic hero's own personal sequel. Insiders tell us that a field of ten directors has been whittled to just three for the follow-up to last summer's hit: George Nolfi, the writer-director of The Adjustment Bureau; F. Gary Gray, best known for directing The Italian Job; and, naturally … Community's Anthony and Joseph Russo?
"Kevin [Feige, Marvel Studios' president of production] is a 'vibe guy,'" one source familiar with the talks explains about the unusual decision to include a pair of Emmy-winning comedy guys in the mix. Adds the insider, "He likes to see if he gets along with people before he'll decide about spending the next two years with them. And apparently, they hit it off with Kevin in the room." Though the pair have worked mostly in TV, directing other shows such as Happy Endings (which they also executive produce, along with Community) and Arrested Development, it wouldn't be their first feature. They co-directed both the 2006 Owen Wilson comedy You, Me and Dupree and 2002's Welcome to Collinwood, neither of which featured much in the way of action and/or shield throwing.
Of course, this is Marvel, where you never know quite what is going to happen: After all, late last year, Feige decided at the last minute to fire Thor 2 director Patty Jenkins, so even the "winner" might find him (them?) self (selves?) brushed away at some later point. But in the meantime, we're told that additional meetings with all three candidates are being scheduled for early next month, and that a decision could be made as early as mid-April.