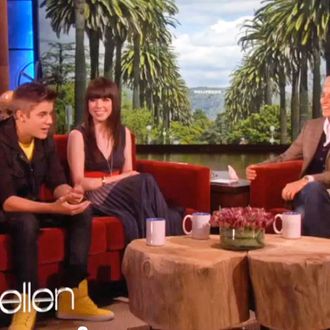 When you see Justin Bieber on Ellen this afternoon sitting next to a young brunette pop starlet who is not Selena Gomez, don't panic — JB and Selena are still going strong. The woman sitting to his left is named Carly Rae Jepsen, and if you are Canadian, under the age of 20, or someone who spends a lot of time with Justin Bieber's Twitter feed, then you are by now probably very familiar with her vocal stylings. But if not, allow us to introduce you: She is a pop star, and she is going to be very famous, if the Biebz has anything to say about it.
The story goes like this: Biebz was back home in Canada for Christmas when he heard Carly Rae Jepsen's song "Call Me Maybe" on the radio. His all-important Twitter reaction: "Call me maybe by Carly Rae Jepsen is possibly the catchiest song I've ever heard lol." Jepsen, a former Canadian Idol runner-up, was working with a Canadian label but had no American representation at the time; soon she was signed to Schoolboy Records, the U.S. label run by Bieber's manager Scooter Braun.
And then Bieber, Selena Gomez, Disney star Ashley Tisdale, and a bunch of their friends made the following lip-dub video. Please understand what you are about to watch: It is a homemade music video in which celebrity and celebrity-adjacent teenagers dance around in sunglasses and fake mustaches. There might be a conga line. It's a lot to take in.
Since this video was posted in February, it has racked up 25 million views. "Call Me Maybe" is currently No. 8 on the iTunes chart and No. 23 on the Billboard Hot 100. Jepsen debuted the song on Ellen this afternoon. She's already working on a full-length album, and Justin Bieber will likely be on it (they've been in the studio together already). All this from a series of Bieber tweets and one manic webcam session.
It helps, also, that "Call Me Maybe" is delicious pop candy, sunny and compulsively listenable. If the Bieber video was too much to handle, then give the normal music video a spin, if only to familiarize yourself. You will probably be hearing this song again! The Carly Rae era is nigh.