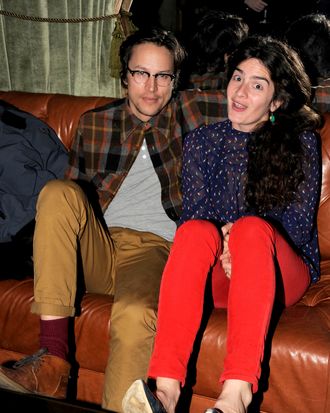 Cary Fukunaga.
Photo: CLINT SPAULDING/Patrick McMullan
After spending several months in London, heartthrob director Cary Fukunaga (Jane Eyre, Sin Nombre) is back in New York, working on the screenplay for his next film, a science-fiction drama that involves space and maybe an assassin. "I'm really taking time to get it right," he told Vulture at an after party for The Adopted hosted by the Cinema Society. "The genre is not the issue," he added. "Every story is just about getting the characters to be real." He was taking a break from writing to check out Mélanie Laurent's French indie — the actress's directorial debut — with fellow screenwriter Naomi Foner (mom to Maggie and Jake Gyllenhaal). "We met six years ago at the Sundance Lab, when I was writing Sin Nombre," he told us. "She was an adviser of mine. She's just sort of, like, this amazing woman. So now I write screenplays and she's writing screenplays, so we go to movies together and talk about movies. I look to her for advice." Foner, who is about to helm her first feature starring Lizzie Olsen and Dakota Fanning, exited the party before her handsome mentee, leaving him to entertain a handful of beautiful women, all of whom seemed to linger by his couch for an eternity. (We were politely waiting our turn.)
When we finally did make it to his couch, we got to talking about pop culture — Had he seen the trailer for the space prison movie Lock Out, for example? — but quickly learned that Fukunaga is not one for froth. "Literally, I don't have a television," he said. "So I don't really know what's happening pop culturally. I read the New York Times. And there's one worldwide cabin blog that I look at." Wait, a worldwide cabin blog? "It's called freecabinporn.com," he explained. "It's basically, like, cabin pictures that are submitted from around the world. That's the only thing I look at religiously." Does this mean his fantasy is to live in a cabin? "I want to have a nice country home one day, yeah." Just when you thought the most romantic thing on earth was the gifting of lost-and-found lockets, you're treated to the thought of receiving said lockets on the porch of Fukanaga's private cottage.