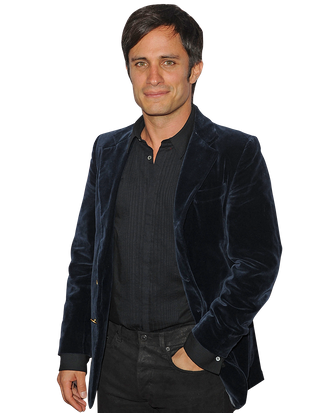 In his mostly dramatic career (thus far), Mexican actor Gael García Bernal has played everyone from a horny, bi-curious teenager (Y Tu Mamá También) to a dude who almost got Brad Pitt's kids killed (Babel). With this weekend's Casa de Mi Padre, a trippy telenovela-meets-Tarantino comedy co-starring Will Ferrell and Diego Luna, Bernal can proudly add "cheesy drug dealer" to his repertoire. (His rendering of a "lovestruck doctor" comes this spring, in Kate Hudson's romantic cancer comedy.) Intrigued by how the actor reconciles his political consciousness with parodying his motherland, Vulture sat down with him for a chat, and gained insight into Ferrell's good-bad Spanish, stinky workouts, and Bernal's deep thoughts about shaving.
Were you ever concerned the film was making fun of Mexicans?
I think everyone's made fun of in the film. It's like South Park. But what I like is that I laughed while I read it. I thought, This could be really ridiculous and fun. And it was a challenge to approach this very touchy and serious subject in a comedic way. It throws into light the difficult questions we rarely we ask ourselves, especially in mainstream media.
Do you have any thoughts on the movement to legalize drugs in America to abate cartel violence in Mexico?
That's the thing: You mention the problems in Mexico, but what this film dares to show is that they're not only in Mexico. This is a problem for Mexico and the United States. It's a co-responsibility. That's what the main intention of the guys who wrote this was, to show that both countries have to work together with this issue.
Even though the movie is in Spanish, wasn't the script in English?
It was in English, and the translation was unreadable. It was really bad!
Did you end up doing a lot of takes because of Will's Spanish?
Yeah. But he speaks really well. Really he does! But there were parts where he couldn't. [Laughs.] How many takes? I don't know. There were points he would say something and we were like, "What was that? What did he say?"
How does one prepare to play a drug lord?
At first, I tried the substances which my character deals … no, no. He was a ridiculous, mystical drug lord. So anything goes, no?
Actually, I see some Scarface in Casa de Mi Padre. You're about to make the drama Hands of Stone about real-life boxer Roberto Duran — and Al Pacino, will be your co-star in that, right?
I hope so. We'll see.
If he does take the role, can we expect drug-lord talk on that set?
Yeah. Small talk between people in the know.
Have you started working out yet?
Ah, can't you see? [Gestures to his body and giggles.] I'm training. A boxing workout is the heaviest thing, but it's the best. The worst part is that boxing gyms are the smelliest things in the universe. You have to lie down on the floor, where everyone has been sweating and spitting, and do 1,000 situps and push-ups. But it's all been fun.
Back to Casa de Mi Padre. You appear in this film with your frequent co-star and good friend Diego Luna. Are you both basically a package deal now?
[Laughs.] Exactly. For this one, they called us at the same time.
Do you consult each other about roles?
I end up sometimes talking with him about the stuff that I'm doing. We bounce, back and forth, our angst and our needs. In this journey of acting, we kind of share the same references. So we definitely talk to each other quite a lot.

What did he have to say about you being in this Zorro update?
Nothing, because I know as much as you do. There is no … I know exactly what you know. They're interested in me.
But you also did a screen test?
No, no.
What's up with you being in a Gillette commercial?
It's the most serious work that I've done. I don't know why you're laughing.
There's also this behind-the-scenes clip in which you explain how, as an actor, facial hair can help define your characters. Seriously?
I know, I know … Imagine how I felt doing it. I had to laugh about it and go for it, you know? But it's a razor blade, so you give importance to the beard, no? It was an acting challenge, but I was being very honest. If it sounds funny — it is funny for me as well. But this is work, man.