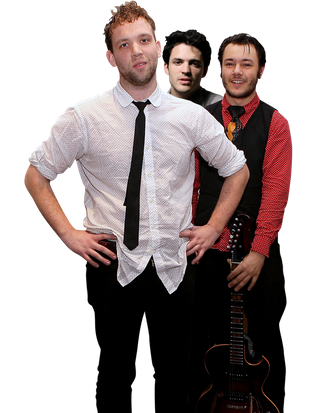 Matthew Iwanusa, Stefan Marolachakis, and Jimmy Carbonetti of Caveman.
Photo: Steve Mack/Getty Images, Michael Schmelling
The term grassroots has taken on glossy connotations in this digital era. But Caveman, an exquisitely harmonic indie-rock quintet from Brooklyn, garnered their following the old-fashioned way: A bartender friend took to playing their songs at work, and soon they were the talk of last year's CMJ festival. Since then, the two-year-old band has won wider word of mouth by touring the country and signing to the prestigious Fat Possum Records, home to a diverse range of musicians, such as Al Green and the Black Keys. Their first album, CoCo Beware, is dropping today — and Vulture is debuting their first video, the Austin Peters–directed "Thankful," below. We sat down with three Cavemen — vocalist Matthew Iwanusa, drummer Stefan Marolachakis, and guitarist Jimmy Carbonetti — at Cobra Guitars, where Carbonetti makes custom six-strings by hand. It was the perfect setting to pretentiously wax on about their craft, but they instead regaled us with stories about sharing underwear, inducing head injuries, and owing a debt to 8-bit soundtracks.
You all grew up in New York City?
Jimmy Carbonetti: The three of us did.
Stefan Marolachakis: They went to high school together, and I met them because my old band, the End of the World, and their old band, the Subjects, would play shows together.
Carbonetti: We met Stefan when we were about 16 … and he was wearing the same jacket. [Points to the jacket he's currently wearing.] I saw his band play down in the sub-room of the [old] Knitting Factory. I was starstruck.
What was touring together with your old bands like?
Matthew Iwanusa: One night, we broke a lot of bathroom-stall doors at … I'm not going to say the college.
Marolachakis: But it came from a good place. We were so excited. So much excess energy.
Carbonetti: I fell through two tables that night by walking on top of them, remember?
Iwanusa: We slept in this weird booth. And then we put a blanket over the top.
Marolachakis: Teepee style!
Iwanusa: I used to love forts as a kid.
Caveman is basically the band that formed after your previous bands split. Does that make this a rebound band?
Marolachakis: But the rebound is temporary in the movies, right? We had our true loves, we went our own ways, and then we found each other again.
Iwanusa: We got the same rings on.
Do you really have matching things?
Iwanusa: Oh, we have a lot of matching things.
Carbonetti: We've worn the same underwear.
Iwanusa: Which sometimes sucks.
Do you get tour riders now?
Marolachakis: Well, bands always have riders. It's a matter of whether or not they get filled.
Carbonetti: Socks!
Marolachakis: The longer bands are together, the more you realize you should have stuff that can live with you later in the week.
Carbonetti: You have to make sure all the drinks have twist tops, so you can bring them in the van.
Marolachakis: I think we've upgraded from Bourbon to Scotch — Johnny Walker Black.
Iwanusa: Which Stefan did an ad for.
Marolachakis: It never saw the light of day. But I did it with hilarious people a year or two ago. It was a print ad: a bunch of young men wearing suits bestowing bottles of Johnny Walker Black to one another as holiday presents. So it was mainly shots where we were either giddily receiving the bottle, or meaningfully —
Carbonetti: Throwing up.
Marolachakis: We didn't do any throwing-up shots.
One of Fat Possum's owners, Matthew Johnson, is known for being a pretty intimidating character. What was it like meeting him?
Marolachakis: It was the first time our band played L.A. There was a white couch that was very Scarface.
Iwanusa: We had the fog machine there.
Marolachakis: [Caveman keyboardist Sam Hopkins] was reclining on the Scarface couch. We had an excellent rider.
Carbonetti: Tequila and Scotch.
Explain the influence of Fleetwood Mac's Tusk on Beware.
Carbonetti: That was a record that we really got into when we first started playing together.
Marolachakis: That was the Jacuzzi before the pool. [Gesturing to Jimmy.] His favorite member is John McVie.
Carbonetti: Oh yeah. That's what I listen to in the shop, on vinyl.
Marolachakis: Everyone in that band has such a touch in them. Serious!
Carbonetti: It's really honest, touches on real things. They're all great players.
I also read that there's evidence of 8-bit video-game soundtracks in there.
Iwanusa: I grew up playing all the Nintendo games, and my parents always had keyboards. So I always tried to play, like, the Mega Man songs. I still have a Nintendo. "Great Life" has a lot of that vibe in it. I just feel like every one of our songs has some element that sounds like it. But maybe that's just me.
Marolachakis: [Laughs.] Every song?
Beware seems to be named after the wrestler Koko B. Ware. I take it you're fans of the sport?
Iwanusa: I have videos of my friend and I wrestling as kids. We chipped each other's teeth, bruised each other's ribs. We got in trouble with our parents, so we moved it into the pool. My friend got dropped onto his face on the side of the pool. But he's still alive. It's cool. We weren't really naming the album after [Koko B. Ware].
Marolachakis: It was more like a good point of entry. "CoCo Beware" is the weirdest phrase.
Is it true that you chant before shows?
Iwanusa: It's true. We have multiple raps, and then there's some Tuff songs in there.
Marolachakis: There's a lot in the stable, but then there are a lot of new riffs. I remember one show early on that was, like, charmingly attended. Nobody came. The chants come out of nowhere.
Carbonetti: But we did it because we knew we had to get pumped up. There's a lot of yelling involved. It's kind of like a pirate chant.
Jimmy, in addition to making guitars for Caveman, do you create guitars for other bands?
Carbonetti: I do for the White Rabbits and a few other people. My dream is to make Ronnie Wood a guitar. He's my hero. It's been a nice, organic word of mouth. Cobra Guitars started pretty much the same time as the band, so it's been amazing to see both grow at a great pace.
To what extent do you attribute this band growth to your bartender friend?
Marolachakis: Grizzly Bear — a guy, not the band — probably gets an undo amount of credit for playing it at bars.
Carbonetti: Well, he got fired from a few bars. So it was a string of four bars.
Iwanusa: He's amazing.
Carbonetti: But we've been doing this for a long time, so it's really always about patience, because this is the only thing we know how to do.