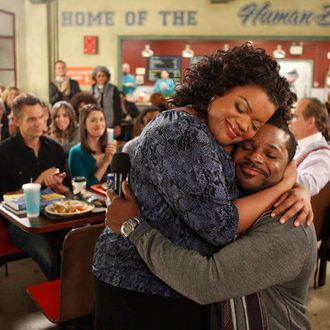 Community fans who expected to wake up this morning to bad news about ratings for the show's return, brace yourself for an unexpected twist: The show actually did quite well in the Nielsen derby last night. No, really, it did: Thursday's spring debut of Dan Harmon's Greendale Good-time Band averaged nearly 5 million viewers and, more importantly, notched a 2.2 rating with adults under 50 (that's up 38 percent from the show's fall average). But want a stat that might really blow your mind, a number so awesome it seems like it was cooked up in the Dreamatorium? Among adults 18-34 (an important, if not key, demo group for TV ad buyers), Community earned a 2.8 rating, beating American Idol in the 8–8:30 p.m. half-hour. #Sixseasonsandamovie? Well …
There are some important, prescription-med-style disclaimers to last night's numbers. Most importantly, Community took the field without facing what's usually Thursday night's biggest Nielsen beast: The Big Bang Theory. It was preempted for coverage of NCAA basketball, and there's a good chance that boosted Community. Odds are, the show's numbers will fall in the next two weeks as BBT returns and as the glow of a very heavy social-media marketing campaign fades. Still, a good start is better than a weak start, no matter how it's engineered. And this could help convince NBC that the show does have a bigger base audience, or a chance for growth, as network suits decide its fate. (It's also, perhaps, an argument to move the show to another night, away from Chuck Lorre's BBT death star).

As for the rest of NBC's Thursday lineup, a half-hour shift also benefited 30 Rock last night: The series zoomed up 43 percent from last week to a 2.0 demo, losing 10 percent of its lead-in but still doing better than most episodes this year. On the worrisome side for NBC is the fact that The Office declined to a preliminary 2.3 rating at 9, ranking behind Grey's Anatomy and a repeat of the pilot for Touch, and possibly basketball on CBS (final numbers for hoops aren't available yet). This matched the show's lowest rating ever, stretching all the way back to its barely seen first season. At 10 p.m., NBC's Awake averaged a 1.6 rating in adults 18-49, which is not great, but is at least stable from last week.

Meanwhile, over at ABC, Ashley Judd and her emotive forehead produced not-disastrous results via the new drama Missing. Actually, among all viewers (read: older folks), the show got off to a rousing start, averaging 10.5 million viewers and surpassing lead-out Grey's Anatomy (9.6 million). The absence of BBT helped this show, too, thought not so much with younger folks: In adults under 50, the ad demo ABC says is most important, Missing managed a less impressive 2.0, losing to NBC and Fox. Still, that was up a healthy 25 percent from what ABC has done this season with the flopped Charlie's Angels and endless episodes of Wipeout.