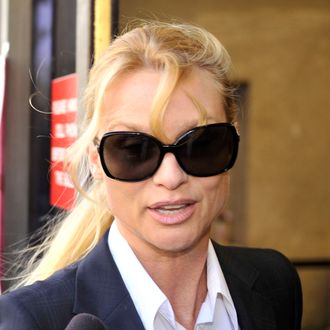 Photo: Toby Canham/Getty Images
As we mentioned the other day, Nicollette Sheridan's wrongful termination suit against ABC and Desperate Housewives' creator Marc Cherry is currently in trial. A short recap of the events that brought this brouhaha to a real court of law: Sheridan claims that Cherry hit her on set in September of 2008 (a fact that Cherry doesn't deny), and that Sheridan was then fired from the show after she complained about being hit, thus denying her millions in wages and revenue. (Her character Edie Britt was killed off at this time.) Cherry and ABC contend that Sheridan's firing was a creative decision and had nothing to do with the incident, for which Cherry apologized. As you can probably tell from this brief description, whatever actually happened, Marc Cherry and Nicollette Sheridan don't much get along and have fairly dramatic personalities. If you doubt this, well, please, take a look at what has happened in court so far.
Here are some things that happened today. In a courtroom.
If that is not enough, please go read the Daily Beast's MariaElena Fernandez's entire Twitter feed from today: There is meditating involved. And, remember, Eva Longoria, Felicity Huffman, Marcia Cross, and Cherry are also all expected to testify! So this is only going to get better!