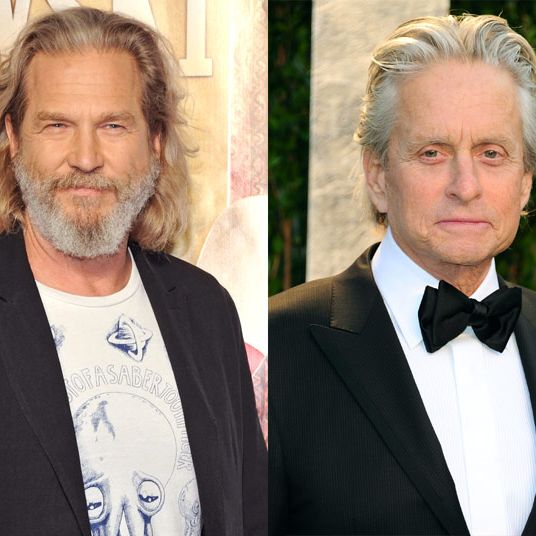 Jeff Bridges and Michael Douglas
Vulture hears that Jeff Bridges has been offered the lead role in Universal Pictures developing comedy Dirty Grandpa. It's being written by John Phillips, the same screenwriter who's penning the sequel to Bad Santa, so you can probably figure out what it's about from the title and creative mind: Dirty Grandpa follows a soon-to-be-married uptight grandson who is tricked into escorting his lascivious and recently widowed former Army general of a grandfather to spring break in Florida. Life lessons are learned; Viagra jokes are likely told.
Now, a studio can offer a part to just about any actor on earth, so this hardly means Bridges is definitely onboard, but we were intrigued to find out that if he passes, Universal's Plan B is to approach Michael Douglas. And that gives us pause to wonder: Who of these two movie greats would make the better filthy patriarch?
Let's split the demands of the role. First, we must check their grandfatherly credentials. Bridges, who at 62 is actually five years younger than Douglas, became an actual grandpa last year around this time. Meanwhile, Douglas has no grandchildren. Point to Bridges for verisimilitude!
But in addition to the ability to truly understand what it is like to have two generations below you, the role also calls for maximum scuzziness. Who pulls ahead there? Bridges's characters are often physically unwashed: Rooster Cogburn, Bad Blake, the Dude. By comparison, Douglas's characters are usually well-attired, but they have dirtier minds. He could call upon that experience for this role, using the same crotch-staring acting tricks he utilized twenty years ago in Basic Instinct, but applying it to a wet T-shirt contest. It's virtually the same psychology, just wrapped in an "Old Men do it with a hump" T-shirt instead of a natty nineties suit. And so while Bridges may have the grandparental sense memory, we'd go with Douglas for the perv factor that is more important for the role.
And now we move on to picking whom we'd cast in the as-yet-fictional-but-inevitable project Nympho Nana: Shirley MacLaine or Cloris Leachman?