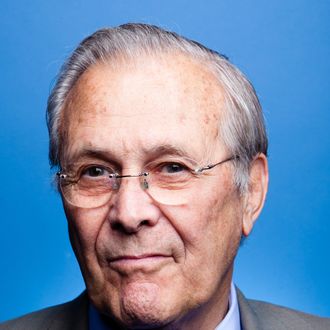 How will we remember Donald H. Rumsfeld? As "a ruthless little bastard" (as President Nixon once described him), who became Nixon's anti-poverty czar despite voting against the very post's creation as a congressman? As a champion of transparency who co-sponsored the Freedom of Information Act, ensuring public access to U.S. government records? Or as a bungling Iraqi-war commandant and architect of "enhanced interrogation techniques" that led to the torture of prisoners of war at Abu Ghraib and Guantanamo Bay?  We will soon have a better idea, for Vulture hears exclusively that Errol Morris has gotten the two-time Secretary of Defense to sit for a lengthy series of interviews, which Morris aims to release later this year as a documentary feature film. It's a follow-up of sorts to his Oscar-winning 2003 doc, The Fog of War, in which he profiled another Secretary of Defense*, the Vietnam War architect Robert McNamara.
Morris did not respond to numerous calls and e-mails seeking comment, but a well-placed source tells Vulture that Rumsfeld sat down with Morris last month for a wide-ranging series of interviews that cover the entire span of his 40 years in public life — as a naval aviator, four-term congressman, counselor to President Nixon, big pharma CEO, and, of course, as the second-longest-serving Secretary of Defense in history. (Rumsfeld served just nine days fewer than the longest-serving Pentagon chief, McNamara himself.) "Errol has the magic of getting people to talk about everything," says one studio chief who knows Morris well. "And they'll sit until things go wrong."
Rumsfeld famously posited in 2002, when asked about Operation Iraqi Freedom, that "there are known knowns; there are things we know we know. We also know there are known unknowns; that is to say we know there are some things we do not know. But there are also unknown unknowns – there are things we do not know we don't know." This clearly intrigued Morris, who in a June 2010 opinion blog for the New York Times wrote, "I kept wondering if Rumsfeld's real problem was with the unknown unknowns; or was it instead some variant of self-deception, thinking that you know something that you don't know.  A problem of hubris, not epistemology."
Regardless, Morris's examination of the Rumsfeld legacy will be no doubt be aided by the many "knowns" — namely, the Defense Department Chief's avalanche of memos. Many were self-released by Rumself himself, Wiki-leaks style, but many others are only obtainable because of the Freedom of Information Act legislation that Rumsfeld helped craft in the late sixties.
It's not clear what the project will be called, or which studio would release Morris's as-yet-untitled documentary. Although Sony Pictures Classics handled the release of 2003's Fog of War, and more recently his 2008 documentary about the Abu Ghraib prisoner abuse scandal, Standard Operating Procedure, no deal has been reached with the indie label as of yet.
Most pressingly, however, Vulture hopes that Morris's unfettered access to Rumsfeld was finally able to answer just what the hell it was that Dick Cheney kept in his man-sized Mosler office safe?
* McNamara was originally mistakenly ID'd as Secretary of State, not Defense, due to an editing error.