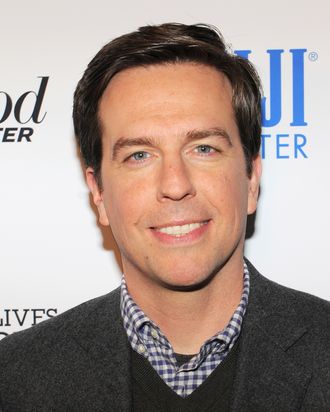 Actor Ed Helms attends the "Jeff, Who Lives at Home" screening hosted by The Hollywood Reporter and FIJI Water at the Sunshine Landmark on March 12, 2012 in New York City.
Photo: Larry Busacca/Getty Images
In addition to being a diehard Bridget Jones and You've Got Mail fan, Mindy Kaling has also gone on record as a West Wing enthusiast. (The relevant tweet: "I love The West Wing so much I can't bear it." There's also this post about how Aaron Sorkin characters are her favorite kind of guys, along with self-effacing NBA players and Good Dads.) So congrats to Mindy, who will soon realize every WW fan's dream of standing opposite Toby Ziegler for at least three minutes. Richard Schiff has signed on to Kaling's Fox pilot, as "a menschy but accomplished OBGYN" who "is terrible with technology and tells stories about the 60s and 70s." Ed Helms and Bill Hader have also landed guest roles on the pilot; Helms will play a potential love interest, while Hader will play her ex. Yeah, we're still thinking about Toby trying to use an iPad. Perfect.