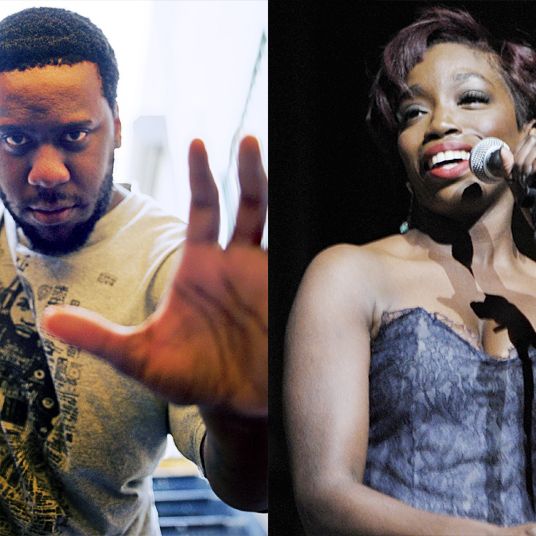 Robert Glasper and Estelle.
Photo: MikeSchreiber, John Shearer/Getty Images for Art of Elysium
You know, I was secretly pleased to get through the last week without ever burdening anyone with my feelings about Chris Brown. (They are strong and numerous but ultimately not super-different from a million other feelings about Chris Brown you may have run into lately.) Then I sat down to listen through the British soul singer Estelle's third album, All of Me, and behold: There's Brown, guesting on the second track. It was around this moment that I figured out a new way to conceive of Brown that prevents me from getting too groany and high-blood-pressure about his popping up everywhere. I've decided to just think of Brown as the Monsanto of the R&B world: this toxic and unrepentantly cruddy entity that's wrapped so far into its industry's food chain that it's hard to buy anything — even simple things — without its having been involved in some way.
I mention Brown's appearance mostly because it's bizarre, in this context: All of Me is a high-minded, reflective album about relationships and self-discovery, which puts it about as far from Brown's headspace as it's possible to get. You can tell the album's about these things because it's littered with little vignettes, recorded conversations in which men and women talk, in a sincere and thoughtful way, about love, relationships, careers, families, self-definition, and personal growth. (It's a bit like the interludes on The Miseducation of Lauryn Hill, an album All of Me probably aspires to resemble.) A few bones are thrown to the charts and the dancefloor — "International," the track with Brown, digs into that triumphant-superhero "my life is amazing" swagger mode that's standard for singles these days — but even those songs are a little warmer and muzzier than you'd expect. The album's heart clearly lies with cozy sighing R&B, and sunny British pop-soul, and Rick Ross guest-rapping over what sounds pretty much like Sade. Each song seems to leap straight from those recorded conversations, and the conversations are so real-world naturalistic that the songs have to live up to their kitchen-table intimacy.
They do, mostly: All of Me is one of those pop albums that's nice to put on simply because it's so friendly and unsurprising. And that is often a risky approach to R&B. For one thing, you offer some people earnest, positive, adult reflections on life, and you might as well just put a sticker on your record that says "Eat Your Vegetables" or "Buy This for Your Mother." (Let me confess here that my tastes in R&B are very "Buy This for Your Mother"-friendly.) For another thing, you risk winding up with songs that speak the language of self-help books and reality-TV confessionals, with bland abstract phrases shoehorned into verses that don't deserve them. One track here gives us the lines "we changed and we grow / some things will stay the same as others pass." Is it not depressing to think that an actual experience of life, a rich interior sense of growth and change, would be boiled down to those dead, boring, indisputable words, instead of actually being illustrated in song? Does it not just send you off wondering about the number of people who do relate to life and emotion in terms of received language, who say "I love you" in about the same way reality-TV contestants say "I didn't come here to make friends," and whether those people's experience of the world might secretly be richer and fiercer than yours? (Oh man, is that just me?) Most importantly: Why do attempts to make "thoughtful" R&B tend to wind up a little staid, reserved, and conservative, as if the only way to have earnest adult thoughts is to underline them with sounds from decades ago, and express them in phrases that sound like a human-resources bureaucrat getting over a breakup?
Something similar's going on with Black Radio, the new album from jazz pianist Robert Glasper and his Robert Glasper Experiment. There are conversations scattered throughout that album, too, but they're all about music. "I don't think people know what's good and what's not good anymore," one of the musicians says, chatting in the studio. "Ninety-eight percent of the stuff you hear on the radio is wack," someone else chips in. You can practically hear the sad head-shaking happening through the speakers. All this talk is congratulating you for hating the gleaming Euro-dance on the radio and tuning into this instead — an eclectic set of soul and funk that wants to throw an artistic challenge at the mainstream, or enter into a one-sided dialogue with it, or maybe bring some kind of "lost" artistry back to the world. I spent my teenage years as a big indie-rock fan, so I get this mentality: It's just plain easier to conclude that the public is being duped, that they've sadly lost track of good and bad, than it is for a skilled musician to adopt some new worldview wherein the work of Chris Brown is a more notable contribution to our culture than his. I get that. Plus it allows you to play the renegade and the savior, the keeper of the flame of real art.
But it's also unpleasantly defensive, like a highbrow version of "Eat Your Vegetables." (Eat your organic sunchoke with citrus-seared chanterelles?) It's not this record's real selling point, either. Glasper has put together a stunning lineup of figures from the boho end of hip-hop and neo-soul — we get vocals from Erykah Badu, Bilal, Ledisi, Meshell Ndegeocello, Chrisette Michele, Yasiin Bey (the artist formerly known as Mos Def), and more, and more — to play … well, certainly not some innovative, forward-thinking assault on the alleged wackness of modern-day radio. Just a gorgeous set of plush soft-jazzy soul numbers, with Glasper's piano and Rhodes trailing elegantly and unshowily around the margins. Badu purrs her way through the old standard "Afro Blue"; Ledisi's turn on "Gonna Be Alright" is as streaked with sunlight as old Stevie Wonder; Bilal's take on David Bowie's "Letter to Hermione" is swank evening jazz, complete with flutes. Sure, the feel for rhythm and arrangement really does befit a pianist who's spent time backing rappers and communing with the late producer J Dilla; Glasper's conversant with the muffled lurch of hip-hop, and knows how to sneak his jazz into a pop format. But Black Radio's most obviously modern-sounding idea is to use some kind of talkbox or vocoder on the vocal for a version of "Smells Like Teen Spirit," which means pairing a song from twenty years ago with a sonic effect from thirty-five. This is not an album that sounds like a bomb chucked or a gauntlet thrown at the radio — it's an album that sounds like a long, deep soak in a tub, and is pretty easy to love for that. Why get adversarial about it?
Ah, well. The longer the R&B on the pop charts continues its love affair with dancefloor bangers and chromed-out northern-European synths, the more commercial space we might see for albums that work like either of these: Estelle's friendly adult pop, or Glasper's reach across toward slinky R&B musicianship. Neither will capture the public imagination quite like music with more thrust or snarl, or the kind of kid-friendly pop swagger the Chris Brown industry sneaks into everything. Which might be sad, or might just be because a record like Glasper's spends way more time trying to resurrect things from the past — the upscale cool of the sixties, the warmth of the seventies, the boho cool of turn-of-the-millennium neo-soul — than it does imagining what might make sense in the future.