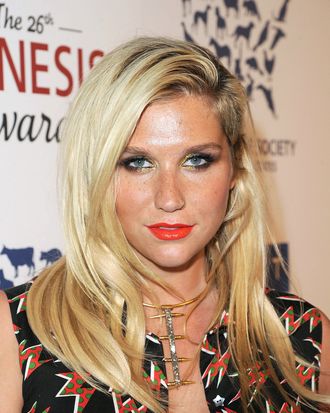 Ke$ha attends the 26th Genesis Awards held at The Beverly Hilton Hotel on March 24, 2012 in Beverly Hills, California.
Photo: Jason Merritt/Getty Images
Because it would not be a Flaming Lips project without some sort of weirdo tie-in, The Flaming Lips and Heady Fwends, the band's Record Day double-album, will apparently be released with a special edition that includes actual blood samples from some of the contributors involved. Allow Wayne Coyne to explain: "I don't have everybody's blood just yet, but I collected quite a few vials of blood and it's actually sitting in my refrigerator as we speak … I'm going to try to take that same concept and put little bits of everybody's blood in the middle of this record. Like a glass specimen thing." Some very dedicated fans have done the research and suspect that Neon Indian, Prefuse 73, and yes, possibly Ke$ha have already donated to the effort. (Warning: lots of blood at that link.) There will only be five or six blood-records, and they'll be expensive, says Coyne, so maybe cut back on your glitter-and-Jack spending if you really have to have one.