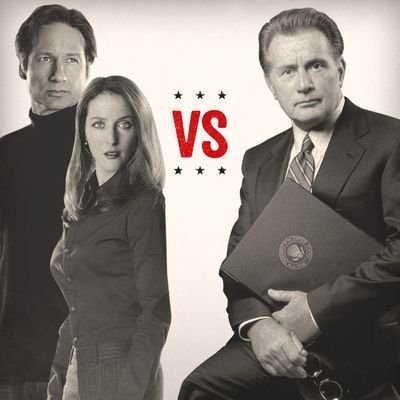 For the next three weeks, Vulture is holding the ultimate Drama Derby to determine the greatest TV drama of the past 25 years. Each day a different notable writer will be charged with determining the winner of a round of the bracket, until New York Magazine TV critic Matt Zoller Seitz judges the finals on March 23. Today's battle: Author David Lipsky judges The X-Files vs. West Wing. You can place your own vote on Facebookor tweet your opinion with the #dramaderby hashtag.
For bookmakers, this should've been an easy one. With The X-Files and The West Wing, you've got two visions of government — Aaron Sorkin's tutorial, patient, East Coast approach (we only need to listen better) going head-to-head against X-Files creator Chris Carter's Western funk (government is murky, far-off, and bad). But what really throws the odds is Sorkin: The performing arts' star center, our best dialogue writer, David Mamet with a research library and a smile, the sole human being on the planet capable of turning a movie about Facebook into a thrill ride.
So I was pretty confident how this one would turn out. I'd do some polite murmuring about The X-Files, then sit back and watch The West Wing put point after point on the board. For about twelve months after the second Bush victory, I endured a West Wing obsession. Not just boxed sets and books of scripts: I made my own MP3s of the audio and then headphoned them as I walked my dog. I couldn't bear to be out of range of the characters for a second. I wanted to hear Allison Janney whisper sensible, passionate observations in my ear; to admire Richard Schiff's brusque, butch, insider unflappability.
I'd once also loved The X-Files. It'd been my Friday night appetizer, a reason for showing up late to meals and parties. But in retrospect, what did the show really have to offer? An extraterrestrial conspiracy that trudged across the seasons without ever picking up more sense. Nighttime Vancouver gamely impersonating a number of American cities. Gillian Anderson and David Duchovny as FBI agents with improbably swank closets. (Chris Carter, on the rigors of TV wardrobe: "I learned very early on that even if you have a character who would shop at JCPenney, you better put them in Armani. Because Armani fits better, and you want your actors to always look good.") Finally, hazed above the whole thing, the slight embarrassment that clings to any extinguished fad: In the mid-nineties, the TV magazine covers were Seinfeld or The X-Files — the domestic smirk and the worried, over-the-shoulder glance were the twin poles of the national mood. Smug but nervous, the country was a successful graduate attending its college reunion on Xanax.
Watching old shows is a complete and oddly destabilizing form of time travel. It's like reliving a love affair. You get to go back and experience every meaningful scene — it's all preserved there, because the whole thing was just you at one end of the sofa, the plots and characters on the other. The entire relationship in cool hindsight, minus the heat and weekly momentum that gave passion a current. You sit and wonder what could possibly have been going through your head. Michael Chabon's great line about faded relationships makes perfect sense for ex-favorite TV: "If you can still see how you could have once loved a person, you are still in love; an extinct love is always wholly incredible."
For the first quarter, I started out with best episodes. For The West Wing, that meant the nearly ideal pilot, in which Martin Sheen, as the president, bustles into the series reciting the first commandment: "'I am the Lord thy God, thou shalt worship no other gods before me' — Boy, those were the days, huh?" Also "17 People" (Richard Schiff is assured a campaign peccadillo will never rise to the level of impeachment. Gruff, insider response: "Write down the exact time and date you said that"); and the double-decker "20 Hours in America," where three staffers get marooned in Indiana, and learn valuable lessons about the nation thereby.
For The X-Files, I chose the nasty, wistful thriller "Clyde Bruckman's Final Repose"; Giovanni Ribisi commanding video games and lightning in "D.P.O."; and "Jose Chung's From Outer Space," which was Quentin Tarantino television, a great fractured comic narrative. To my surprise, the scores held pretty even.
For the second quarter, I started flipping around through Sorkin's four seasons and got another surprise: The years haven't been kind to The West Wing. Its well-meaning and functional Washington feels a lot less believable than anything on The X-Files. The notion of the White House as manageable, a setting for glossy, glamorous comedy, could only have been sustained for that brief period between Clinton's economy and the airplanes of September 2001. Its tuxedo optimism no longer makes sense. The X-Files' notion of Washington — a locus of nooks-and-crannies bureaucracy and mysterious, grinding obstruction — looks fresher, leaner, and meaner.
So for an instructive third quarter, I considered both shows' influence. The West Wing's great bequest is the walk-and-talk, a pretty gigantic advance, since it made long-form-conversation TV possible. Sorkin and director Thomas Schlamme recognized something important about the way we perceive TV: We can be tricked by motion. Dialogue an audience simply wouldn't sit still for could be made palatable if characters went weaving down office hallways and declining phone messages. The pedeconference is now standard for TV — House, Fringe, Battlestar Galactica, Grey's Anatomy, we get wit and exposition on the hoof.
But the main thing West Wing launched was Sorkinism: the idea of an audience for movies and shows that work the way journalism does — for plots that map the back stairs of big, complicated institutions. Sorkin's first project, the TBS stalwart A Few Good Men, walked us through the Marine Corps. The West Wing toured us up and down the most glamorous back steps imaginable. And Sorkin went on to do the same thing with Saturday Night Live (his Studio 60 on the Sunset Strip), Afghanistan (Charlie Wilson's War), Facebook (The Social Network), and pro sports (Moneyball). 
From The West Wing, it's only a short walk-and-talk step to Mad Men, to Friday Night Lights, to The Wire — fiction with a documentary charge, with a dash of educational nonfiction thrown in. (Even Burn Notice, a pretty great CIA show, offers long voice-over instructions in tradecraft; how to tap phones and explode walls — the DIY is often the best stuff.) It's no accident Sorkin's next program, HBO's The Newsroom, is a making-of about cable news. It's what Sorkin likes to do, apply his unbelievable dialogue gift to explain and populate our closed-door regions. While there's residual fondness for the show's cast (lots of anticipation for the Josh-Sam reunion, when Bradley Whitford guests on Parks and Recreation), the show's real marquee was Sorkin himself .
And then there's the X-Files' legacy. Gillian Anderson is classily imprisoned doing high-end BBC culture stuff — Great Expectations, Bleak House. At the spectrum's opposite end, David Duchovny is headlining his own debauched series, Californication, on Showtime. Look especially at the writing bench. Vince Gilligan, who wrote and produced about a hundred X-Files episodes, went on to create the AMC reckless-decisions juggernaut Breaking Bad. Howard Gordon, who wrote and produced about the same number, became showrunner for the tick-tock thriller 24, then co-created this year's best series, Homeland. The X-Files had an amazing farm system, and you feel it on the show.
Then there are the ways The X-Files wriggled into other shows. In the former TV world, you sometimes had autopsies, but our modesties were spared: You got below-camera sawing, yuck expressions on the guest stars' faces. The X-Files changed all that. When Gillian Anderson autopsied a body, it stayed autopsied; you saw incision, glop, scarlet organs on the scales. Even outside the medical lab, if a guest star lost a thumb — or a head — the camera paused, descended, and took a good lingering look. (James Wolcott nailed this in 1997: The series offers "a lush, becalmed spirit of voyeurism so pure and intent it borders on a trance state.") The weekly gore level of CSI, Law & Order, Criminal Minds would have been otherwise unthinkable.
Finally, there's the long arc — the idea of a single, perpetually unfolding mystery, cliff-hanging viewers between episodes and summer breaks. X-Files brought that back and cleared a landing strip for Lost, 24, Buffy, Fringe, Alias, True Blood. Even the first Mad Men season had its long-arc, "Who is Dick Whitman?" question. The X-Files restored to television comic-book storytelling, where it's a risk to skip an issue.
Another measure of a show's success is what it stamps out. During the X-Files' glory years, the film industry sheared away from undead neighbors and paranormal material. What would have been the point? Just as Seinfeld put its nineties halt to sophisticated, Harry Met Sally dialogue comedy (if you were going to make a comedy, it needed to be lots grosser and wilder, or more Wes Anderson refined). Or how, during the Sopranos' run, nobody made much of an attempt at a mob picture. One queer side effect of the TV renaissance is its aesthetic landgrab — how much real estate it's fenced off, sending movies to squinch up in their present dissatisfying territory of big-budget city-smashers and reboots.
TV, as a form, is a closed system, all self-pollination. Like most great TV ideas, The X-Files came while watching TV. Chris Carter had loved and autopsied the FBI thriller Silence of the Lambs. Then, flipping to Larry King, "I saw a guy who worked for the FBI whose detail was satanic cults," the producer once said. "I found it interesting that they had somebody specifically investigating something like that." A terrific comic premise: submitting the chaos of our midnight rumor world — psychics, abductions, monsters, Men in Black — to the daylight, rock-ribbed rules of a police procedural.
The fourth quarter, to my surprise, was all X-Files. I voted with my eyes. I watched twenty episodes; I couldn't stop watching them. I watched for fun, for suspense, for the pleasure of not being able to turn the show off. Because that's the main thing we ask from TV. It's what we ask of relationships — that compelling gravity, the need to be back in the same seat in the same room.
This came with a sinking feeling. The West Wing — with its direct Ethernet to my NPR side — is what I'd like to think I want. Engaged by politics, prepared to be wittily educated. Finishing an episode, I feel smarter, broader-minded, quicker-tongued. The West Wing is TV as a nutritional supplement; you're sent away from the tube revitalized. It turns out to not be what I want. I want nasty and perfect 44-minute thrillers. I want to be terrified: gripped, thrilled, and then sweatily released. The X-Files is an almost ideal format (and it'll be interesting to see how it makes out in the later brackets), because as FBI agents, Duchovny and Anderson could be promiscuous about location. They could investigate anywhere — McMansion communities, small-town high schools, rain-starved great plains. The show was never wedded to a single place, so you got something rare: familiarity without repetition.
And then, as my last surprise, I began to prefer the X-Files' human stuff too. The show's real long arc is a slow evolution, the desktop romance between Anderson and Duchovny. The Sorkin show is also a romance, but it's with the workplace. What he seems to love is the rolled-sleeve camaraderie: the shared jokes and takeout meals, punishment hours, all in an atmosphere of excellence. The problem is this speaks best to people who have the great luck of finding passion in their jobs. (An occasional problem of workplace TV and movies; they're made by people who produce movies and TV, who have every reason to be excited by their desks and colleagues. You feel the difference.) What makes the Anderson and Duchovny relationship truer is it takes place against a backdrop of non-glamorous business travel, of motels and paperwork. That we have to squeeze our feelings into moments of threat and inconvenience is how most people experience their emotional lives.
I was moved almost to tears — more than by any single moment in The West Wing — by the end of an efficient third-season episode called "Pusher." Another nasty and perfect 44 minutes. The villain, Pusher, can compel people to do whatever he likes. Duchovny has trailed him, been forced into Russian Roulette with him, now he and Anderson are standing over his tractioned body in a hospital. As they leave, Anderson reaches for Duchovny's hand.  And says what you do to a person you love in contrast to your environment — at the end of a chase or an afternoon lost to talkers at a spectacularly boring meeting. "I say," she says, "that we don't let him take up another minute of our time."
Winner: The X-Files

Reader Winner as determined on Vulture's Facebook page: The X-Files
David Lipsky is the author of Absolutely American and Although of Course You End Up Becoming Yourself, and a recipient of the National Magazine Award.