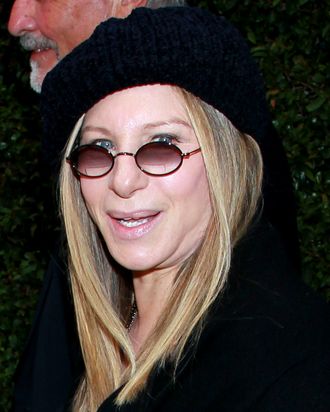 Actress Barbra Streisand attends Chanel's benefit dinner for the Natural Resources Defense Council's Ocean Initiative at the home of Ron & Kelly Meyer on June 4, 2011 in Malibu, California.
Photo: David Livingston/Getty Images
Downton Abbey mastermind Julian Fellowes will write the on-again Barbra Streisand Gypsy movie, the parties announced today. That is … strange! Streisand will star as Mama Rose, and she'll produce the film alongside Joel Silver; there's no director attached yet, and there is neither a Louise nor a June, so don't get too excited. (Or too worried.) Streisand announced her plan to make a Gypsy movie early last year, but then Arthur Laurents changed his mind about giving the show his blessing, and it seemed like the movie wasn't going to move forward. A few months after Laurents's death, Streisand said the film was still happening, and now here we are, with a writer attached and everything. Somewhere, Lea Michele is flipping the hell out.