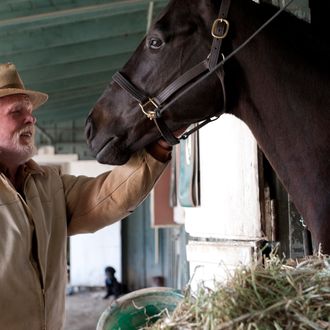 Horses, stay far, far away from this show.
Three is a trend. HBO agreed on Tuesday to halt filming with horses pending an investigation into this latest incident. The animal that died Tuesday morning suffered a head injury while being transported to a race track in California. "The horse was on her way back to the stall when she reared, flipped over backwards, and struck her head on the ground," said Dr. Gary Beck, a California Horse Racing Board veterinarian who had earlier examined the horse, which was euthanized at the track after the injury.
After two horses died in connection with the show earlier this year, one of them owing to a nerve fracture after falling, the show's production implemented new safety measures, including "the hiring of an additional veterinarian and radiography of the legs of all horses."
PETA seized on HBO after those deaths and is likewise furious over this incident.
"Three horses have now died and all the evidence we have gathered points to sloppy oversight, the use of unfit, injured horses, and disregard for the treatment of thoroughbreds," PETA vice-president Kathy Guillermo said. "Racing itself is dangerous enough. This is a fictional representation of something and horses are still dying, and that to me is outrageous."