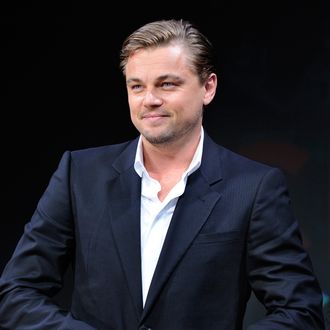 For days now, talent agencies have buzzed with the news that Leonardo DiCaprio might be finally committing to star in The Wolf of Wall Street for director Martin Scorsese, a project that was first reported exclusively by Vulture almost a year ago today. Then, earlier this morning, Deadline carried the news that the funding had at last been locked into place, courtesy of Wall Street big-shots themselves: Riza Aziz, a former HSBC investment banker from London, and Joey McFarland, a private equity cowboy from Kentucky. Their Red Granite Pictures will be fully financing the feature adaptation of Jordan Belfort's memoir of his boozy, debauchery-rich journey to multimillionaire in the Reagan eighties to federal convict in the Clinton nineties, starting production this August.
So, what took so long? Well, before Leo decided to run with the bulls, he was far more interested in bears: Specifically, the bear that mauled 1820s fur trapper Hugh Glass in Michael Punke's historical novel, The Revenant. That New Regency project — which is being directed by Alejandro González Iñárritu — was actually on the cusp of starting production this August. Iñárritu, however, had wanted his old 21 Grams star Sean Penn for a supporting role in Revenant, but Penn was more taken with another real-life Iñárritu project, Jennifer Vogel's memoir, Flim-Flam Man: The True Story Of My Father's Counterfeit Life.
Flim-Flam Man, which we now hear may be retitled as Red Flag, would give Penn the lead role he preferred, a juicy part playing a real-life bank robber, arsonist, fraudster, addict, and counterfeiter of more than $20 million. And so last week, New Regency — desperate for some movies to prevent another bear-mauling from the hot-headed New Regency chairman Arnon Michan — quickly set about negotiating to finance Flim-Flam as well. This, of course, gave DiCaprio the push he needed towards Scorsese's film, which had little hesitation about landing such a big fish for their Wolf. We're told, however, that DiCaprio still has the offer on Revenant and hasn't given up on the project, which will likely go in August of next year, instead of in 2012. Just don't hold your breath expecting to see Sean Penn in a Davy Crockett raccoon hat anytime soon.