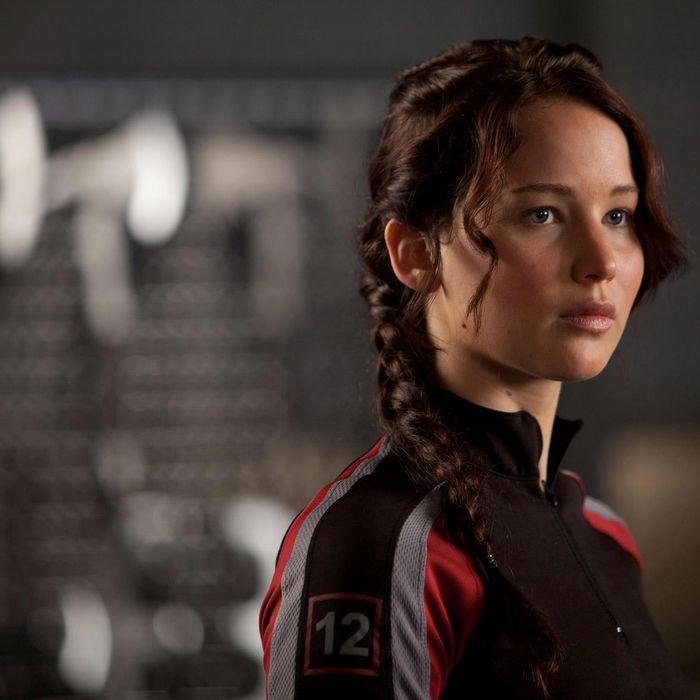 Jennifer Lawrence in The Hunger Games.
Photo: Lionsgate
This Weekend's Winner: The Hunger Games (No. 1 with $155 million in North America, and a whopping $214 million globally)
Honorable mention: Samuel Goldwyn Films' anti-abortion evangelical bait October Baby (with John Schneider and Jasmine Guy!) landed at No. 8 with $1.7 million, giving it the second-highest per screen average this weekend, and from not even 400 theaters at that. Perhaps its release benefited from all those Rick Santorum fans looking to go out and do something fun to celebrate his Louisiana win?
This Weekend's Loser: Twilight: New Moon, which debuted to only $142 million in November 2009. (Relax! We're only saying that to get all you Stephenie Meyer fans into a psychotic lather … No, but seriously: Suck it, Bella!)
How It All Went Down: Yes, it made more than Twilight and became the third biggest opening for a movie, ever. But how? "The brilliant marketing made the movie feel like its appeal was beyond the YA audience that bought the books," said one rival studio production exec in its thrall. (This writer who hadn't read the books and is far from the YA demo wasn't onboard until he saw the fantastic "shoot the pig" trailer, released last week. And then, yup.) Adds the exec, "Once you saw the film, you were thrilled they hired a good director and put together a cast that appealed far beyond the YA audience of the book. The film works on every level." In other words, The Hunger Games didn't just look broadly appealing — it was broadly appealing.
To say the film was widely promoted is like saying that James Cameron has a passing interest in marine science. With all its broadcast promos, tie-ins, and sponsorships, some 100 million people got the message here in proto-Panem alone. But Hunger Games also took nothing for granted, using its core audience of teen girls to evangelize like nobody's business. We're not going to waste time telling you every last media-buying twist and foible that helped open this picture, but one example — the season finale of ABC Family's Pretty Little Liars featuring a clip of Peeta Mellark — is worth highlighting. Per SocialGuide, the clip helped shatter Twitter and Facebook odometers, generating the most social-media mentions for any regularly scheduled series in the history of television: 32,000 tweets per minute, for a total of 645,000 for the hour. We can only imagine the carpal tunnel syndrome that these poor young things will experience later in life, which will make it very difficult to handle a weapon when the dystopian games kick in.