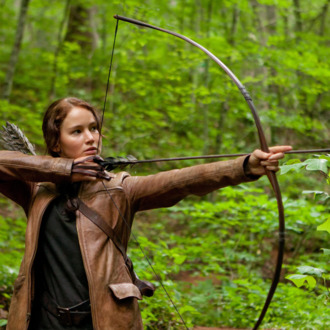 Jennifer Lawrence stars as 'Katniss Everdeen' in THE HUNGER GAMES.
Photo: Photo credit: Murray Close
Hunger Games has only been out for eleven hours (EST), and predictably, it's already raking in the cash. Early tracking puts the movie's midnight box-office earnings at "north of $25 million," and possibly as high as $30 million — a figure that would tie it with the The Twilight Saga: Eclipse. (Harry Potter and the Deathly Hallows 2 still holds the all-time midnight-box-office record, with $43.5 million.) By all estimates, Hunger Games is still on track for a $100 million-plus opening weekend, so be prepared for a lot of "girl on fire" dresses if you venture out into the movie wilds. And maybe bring a fire extinguisher. Just in case!