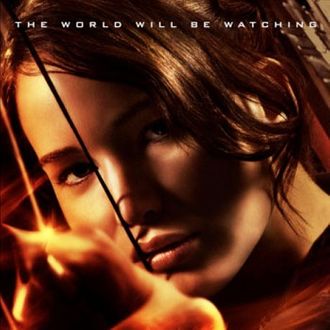 Holy Panem! Just four more days until The Hunger Games hits movie theaters nationwide in what will likely be one of the biggest series openings in Hollywood history — as much as Harry Potter's $90 million debut and likely quite a bit more than Twilight's $70 million one. Already the hype has reached a fever pitch, and all thanks to Lionsgate's marketing wiz Tim Palen, who recently sat down with the Times' Brooks Barnes to discuss what has now been a 3-year-long promotional onslaught.
Number of free posters handed out: 80,000
Number of Hunger Games-themed magazine covers: 50
Several examples: Entertainment Weekly, People, Seventeen, Australian GQ
Billboards and bus shelters used to advertise: 3,000
Size of production budget: $80 million
Size of marketing budget: $45 million
Amount studios often spend marketing blockbusters: $100 million
Barred promotional phrases: "23 kids get killed" and "let the games begin"
Promotional phrase used: "only one wins"
Number of people to make digital IDs on TheCapitol.pn: 800,000
Number of views on Capitol TV YouTube channel: nearly 18 million
Number of views of November-release trailer: 8 million (first 24 hours)
Number of puzzle pieces a poster was broken into: 100
Number of websites each given a piece, told to post on Twitter: 100
Ploy's effectiveness: "It was a silly little stunt, but it worked — bam." (Palen)
Number of websites that took part in ticket giveaway: 50
Sign that merchandising is fully underway: a Hunger Games cookbook

One of the most effective single aspects of the Hunger Games publicity machine has been its use of those snappy, much-ballyhooed social media platforms: Twitter (see above), Tumblr (a fashion-related site, Capitol Couture, was launched in January), and Facebook (used to release casting announcements). Ironically, its latest ploy, a virtual tour of the Capitol, which can be glimpsed in recent trailers, is to be released this week in partnership with Microsoft, that old, decrepit dinosaur of the tech world. And so the mercury bubbles up one more notch on the countdown thermometer, ever closer to boiling over.