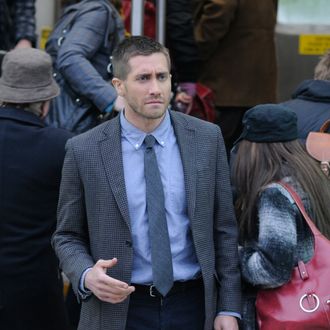 JAKE GYLLENHAAL stars in SOURCE CODE.
Photo: Photo: Jonathan Wenk/?2010 Summit Entertainment, LLC. All Rights Reserved
After his acclaimed two-role turn in The Devil's Double, Dominic Cooper hit the studio jackpot when Warner Bros. tapped him to star in the Allen Hughes thriller Motor City. Alas, Cooper's fallen out of the big studio gig over scheduling conflicts (he just replaced Clive Owen in, uh, Cities — no relation!) and now Jake Gyllenhaal has taken his place, reports Variety. If the plot seems standard issue — a man just out of prison tracks down the crooks who framed him — the central conceit is novel: According to The Playlist, the protagonist has only a single line of dialogue. Hey, it worked for Jean Dujardin!