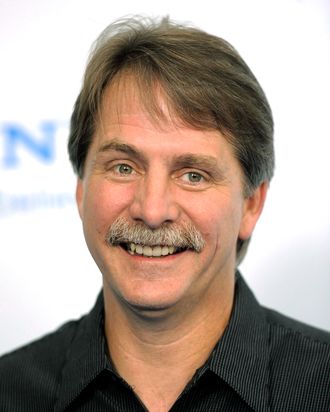 Jeff Foxworthy attends the premiere of "The Smurfs" at the Ziegfeld Theater on July 24, 2011 in New York City.
Photo: Jemal Countess/Getty Images
Jeff Foxworthy will host GSN's upcoming show The American Bible Challenge, the network announced today. The show is a catechism trivia contest where the players compete on behalf of faith-based charities. Sounds fun! Isn't Bible study so fun now? It's just the funnest. Oh, Bible, you're so fun and silly. Quick: How many times does the word begat occur in the King James Bible? 139! Ha, ha, ha, what a terrific time we are all having. Suck it, Trebek, we have a new god now, and he has the decency to still have a mustache.