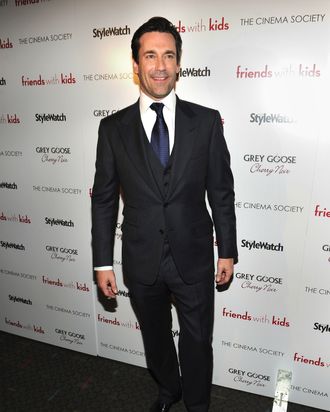 Jon Hamm.
Photo: Larry Busacca/Getty Images
We're not sure who was beaming more at last night's Cinema Society screening of Friends With Kids: Jennifer Westfeldt, who wrote, directed, and stars in the movie, or her longtime partner, Jon Hamm, who walked the carpet with a proud boyfriend grin on his face. Hamm also stars in the movie — which follows a group of thirtysomethings as they start having kids — as a guy who only speaks to his wife, played by Kristen Wiig, if he's drunk and snapping at her. Sort of like Don Draper, only way worse and after women's lib. We spoke with Hamm about playing the asshole, doing Jersey Shore's Jionni on last week's Saturday Night Live, and preparing for his upcoming Bill Maher appearance.
Did Jennifer make you audition for the role?
Fortunately I didn't have to sleep with the director to get this role; I just happened to be sleeping with her.
Did you ever think about playing Ed Burns's part? [His character dates Westfeldt's character in the movie.]
Actually, in a couple of the read-throughs in the early stages I read the part, but I think Jen and I wisely decided not to go that route and not to play opposite each other romantically. I think it was a better choice.
Was there a reason you didn't want to play opposite each other romantically?
I think it just confuses the audience and is a little confusing in general. And I think that people bring their own baggage and their own knowledge to that role and it's a little confusing.
How early on did Jen let you read the script? Was she shy about it?
No, she wasn't very shy about it. In fact, everything she's written I've read at some very early stage of the game. And I offer notes and thoughts, and she's such a phenomenal writer that it's fun to do; it's good to read her writing.
Your character winds up being a real a-hole. Is it hard watching yourself like that?
It's not the best. But it is a character and that's what we do. I mean, my day job is not exactly playing the world's most likable guy either, but it's fun when you get a chance to do something that has kind of an emotional resonance. And I love being funny onscreen as well. But this is another thing that's fun to do, another color to show.
You were funny on SNL. Did you get to decide what skits you would jump in on?
No. That show is pretty well run, a pretty tightly run ship, so I was thrilled that they asked me to be a part of it.
You came in as Jionni for Weekend Update. Do you even know you Jionni is?
[Laughs.] No. I don't.
You don't watch Jersey Shore?
I've never seen it. But I do know Bobby [Moynihan]'s Snooki is phenomenal. So it was pretty fun to do.
Next week you're going to be on Bill Maher. Are you reading all the newspapers in preparation?
No, I'm not, unfortunately. But I have done the show a couple of times before and it's pretty terrifying. So I'll have to, like, take a beta blocker or something and get Zen before I go on.
And read everything about Rick Santorum because Bill Maher is obsessed.
Oh, yes.