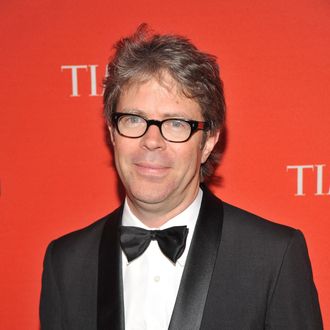 Photo: Stephen Lovekin/Getty Images for TIME
Jonathan Franzen is not a big Twitter fan. Knock us over with a feather of carefully crafted contrarian feather! He hates e-books, smart phones, and Facebook — of course he doesn't like Twitter. Franzen read at Tulane on Monday night, and at the appearance offered his thoughts on the shortcomings of social and new media. Author Jami Attenberg took notes, and quotes Franzen as saying:
I personally was on Facebook for two weeks as part of a piece of journalism I was writing — it seemed sort of dumb to me. Twitter is unspeakably irritating. Twitter stands for everything I oppose…it's hard to cite facts or create an argument in 140 characters…it's like if Kafka had decided to make a video semaphoring The Metamorphosis. Or it's like writing a novel without the letter 'P'…It's the ultimate irresponsible medium. People I care about are readers…particularly serious readers and writers, these are my people. And we do not like to yak about ourselves.
First, the idea that "serious readers and writers" don't engage in — hell, revel in — self-yakking is patently false. (This is what creates 18 percent of the breathable atmosphere of Brooklyn.) But more to the point, of course Twitter is ill-suited to factual citations and elaborate discourse. That's like complaining that Post-it notes are ill-suited to use for the first draft of a dissertation. Franzen's right in the sense that Twitter arguments are unspeakably irritating, but that dubiously assumes that Twitter is supposed to be or even generally is used for that purpose. That's what makes those overly wrought tweets so damn annoying: That's not what Twitter's for. It's easy for Jonathan Franzen to find an audience for his ideas; it is less easy for almost everyone else. That doesn't make their pursuit of it dumb.
Is this more than just crumudgeony griping, though? Does Franzen have a point — that Twitter is "irresponsible" as a medium, because the constantly curated life is half-unlived? #Maybe.