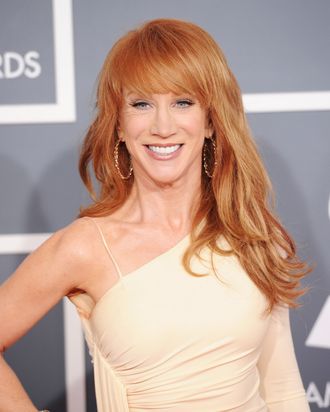 Comedian Kathy Griffin arrives at the 54th Annual GRAMMY Awards held at Staples Center on February 12, 2012 in Los Angeles, California.
Photo: Jason Merritt/Getty Images
Kathy Griffin is getting a weekly talk show on Bravo, the network announced today, forcing us to wonder: Why didn't Kathy Griffin already have a Bravo talk show? She had a Bravo reality show, and several Bravo stand-up specials. The only thing more dear to Bravo than hair extensions and cruelty is its ability to have its shows self-replicate, spinning one another off into galaxies of overlapping fame-mongering. It's basically a cattiness-exporting empire with a gossip-based currency, where all accumulated wealth funnels up to overlord Andy Cohen, who periodically takes a break from whitening his teeth to crown new duchesses of attention. Anyway, Kathy will air on Thursdays at 10 p.m. starting April 19.