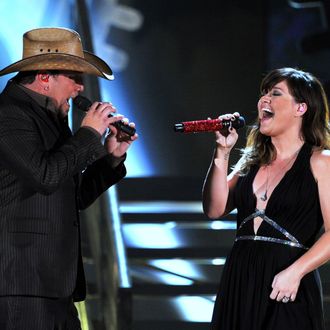 Photo: Kevin Winter/Getty Images
You know how every year at the end of American Idol, the finalists get the chance to perform with some random artist who may or not may be their musical hero? That's now going to be an entire TV show. In another sign that TV's musical competition arms race is not abating, ABC today will take the wraps off of Duets, a talent hunt in which established stars Kelly Clarkson, Robin Thicke, Lionel Richie, and Jennifer Nettles of country group Sugarland crisscross the country in search of musical mates. These won't be random hookups, however: The goal of Duets seems to be finding a pairing of celeb and amateur actually capable of selling records.


According to ABC, the four star singers  "will individually set out on a journey across America looking for undiscovered talent worthy to be their protégés." The hunt will culminate with each star picking two finalists as their duet partners, resulting in eight pairings that will be put to the test weekly via live performance shows. Presumably, audiences will decide which celeb-amateur combos will move forward each week, leaving one duo as the ultimate winner of a contract with Disney-owned Hollywood Records (and perhaps a hit single). ABC says it's fast-tracking the project to debut this summer, perhaps in time to quash whatever small chance the CW's just-announced Queen Latifah–led musical star search had of finding an audience.

This is not the first time the networks have played around with the idea of duets in a reality format. Six years ago, Simon Cowell produced the short-lived Fox series Celebrity Duets; that show, however, was more like Dancing With the Stars, with B-level figures randomly singing off-key with a slightly better known professional singer (such as Lucy Lawless and Richard Marx). A couple of years later, CMT tried connecting amateurs with other amateurs on the only slightly more successful Can You Duet?, which lasted two seasons before it was axed.

So could ABC's Duets be a contender? Well, unlike past duet shows, it's the first major broadcast network series to try the pro-amateur approach. ABC has also found a respectable celeb foursome to mentor its contestants, giving the show a healthy amount of credibility. (Clarkson, by the way, seems to be going out of her way to dis alma mater American Idol: She's currently helping coach contestants on NBC's The Voice.) On the other hand, with Idol and Voice plus Fox's The X Factor and NBC's heavy-on-music America's Got Talent, it's worth wondering whether or not we're reaching a saturation point in terms of music competition shows. CBS is now the only broadcaster without a performance-based reality series — though perhaps it's not too late to hope for a season of Big Brother in which all of the houseguests dream of musical superstardom!