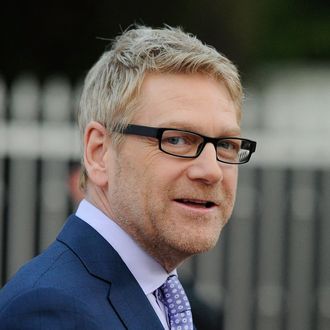 Kenneth Branagh
Photo: Frazer Harrison/Getty Images
Vulture hears that Paramount is now in negotiations with Kenneth Branagh to take over directing duties for Jack Ryan, the studio's on-again/off-again effort to revive the Tom Clancy spy franchise with Chris Pine. The news comes just over a week after Lost executive producer and director Jack Bender (who had signed on a year and a half ago) stepped down from the project because of scheduling issues with a SyFy project.
We hear that Bender had tired of the endless development born of creative loggerheads over the direction of the film. Pine wanted to make a character-driven espionage movie. The producer, Lorenzo di Bonaventura, wanted to make Jack Ryan into an action movie. Paramount executives wanted to make it a thriller. "And [screenwriter] David Koepp was supposed to sort that all out," laughs one of our own spies, "Good luck!" Koepp had been called in after nobody could agree on the takes by other screenwriters: Anthony Peckham (Invictus) and Adam Cozad (Brad Pitt's upcoming The Gray Man) turned in drafts, and Steve Zaillian was hired at one point but ultimately pulled out before turning anything in.
We're told that just this week, a few days after Bender's departure to work on his SyFy pilot Rewind, Koepp turned in a draft that attempts to synthesize everyone's demands. Unlike previous films like The Hunt for Red October and Clear and Present Danger, which were adaptations of actual, Tom Clancy novels, the new story of Jack Ryan, we're told, is not. Instead, it's a prequel that shows Ryan's beginnings, but is hardly canonical. It is set in the present day, without the dated Cold War geopolitics.
The move toward a more proven feature director like Branagh is reassuring to the studio, considering the other elements of the film: Knowledgeable sources say that neither Paramount nor its co-financier, David Ellison's Skydance Productions, were quite certain about just how much brand equity remains in a moldy Everyman spy character who's been played by three different leading men (Alec Baldwin, Harrison Ford, and Ben Affleck), with the last installment already ten years old. And then there was the fact that their chosen leading man hadn't shown much star power outside of the Star Trek franchise: Pine's most recent outing, Fox's This Means War, flopped badly.
As Branagh turned Thor into a sleeper hit for Paramount, we expect the studio will be eager to close a deal with him, since our spies say that the plan is to begin production in September of this year.