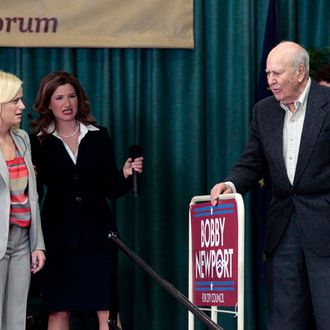 PARKS AND RECREATION – "Campaign Shake-Up" Episode 417 – Pictured: (l-r) Amy Poehler as Leslie Knope, Kathryn Hahn as Jennifer Barkley, Carl Reiner as Nes Jones.
Photo: Chris Haston/NBC
Though Leslie Knope's City Council campaign has suffered its fair share of setbacks on Parks and Recreation, the entirely fictional candidacy is going swimmingly in real life. Leslie Knope was just endorsed by a real live labor union! The American Federation of State, County and Municipal Employees (AFSCME) has announced that it will support Knope for Pawnee City Council, citing "Knope's public service and her passion for making our communities safer, healthier and stronger." The catch is that AFSCME wants Poehler to speak at their convention in exchange for the endorsement, but they did throw backstage waffles into the deal. Ron Swanson will probably shut this offer down, but still: Congrats, Knope 2012! You guys are killing it!