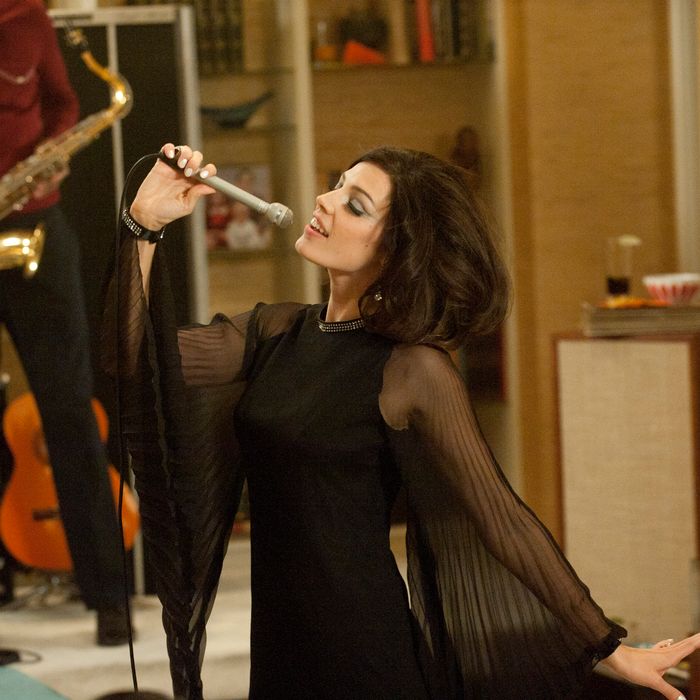 If you watched the season premiere of Mad Men, or have a friend who did, or belong to a social network of any kind, you are likely aware that it included a scene with some French song by some chick that no one could stop thinking, whistling, or talking about. By the end of the week, clips of Jessica Paré's performance of "Zou Bisou Bisou" had been viewed half a million times on YouTube. Another version, performed by Gillian Hills, a not-quite-"It" girl in the sixties, had just 5,000 views when Mad Men's theme song kicked in last Sunday. Five days later, that tally was approaching 300,000.
Only one question remained, as it always does on Mad Men: Who could profit from this sexy number?
On Tuesday morning, Lionsgate, which produces the show, released Paré's performance on iTunes. By that afternoon, it was in the "Top 100," lodged between Lil Wayne and Madonna. In order to use the song and release the single, Lionsgate had to obtain the rights to "Zou Bisou Bisou" from EMI Music Publishing, a repository of 1.3 million songs available for licensing to television, film, and any other medium with a pocketbook. The EMI collection, the world's largest, includes everything from "Little Drummer Boy" to Lana Del Rey, along with seven versions — one is a "Club Mix," another a "Dubstrumental" — of the French ditty written by British songwriters Alan Tew and Bill Shepherd in the early sixties. The song was obscure, and until now had not produced royalties on par with, say, Tew's theme song for The People's Court. Royalty contracts are confidential, but it's likely that the Mad Men appearance produced a windfall in the tens of thousands of dollars. Not bad, 50 years after the work is done.
For songwriters outside of the "Top 40" production machine, a song made culturally and financially relevant many years later is a godsend. In 1974, Nick Lowe wrote "(What's So Funny 'Bout) Peace Love and Understanding," which would be covered most memorably by Elvis Costello, and most profitably by the singer Curtis Stigers. Twenty years later, Stigers's version appeared on the soundtrack for The Bodyguard — it had been cut from the movie — which has gone on to sell more than 40 million copies worldwide. "I didn't buy racehorses or yachts or anything like that," Lowe has said of the unexpected royalty windfall. "But it was a big, big payday." By some estimates, more than $1 million.
And what about Gillian Hills, who first performed "Zou Bisou Bisou" 50 years ago? In 2007, Barclay Records, a French label, released a collection of Hills's music that included the Mad Men hit. In the week before the song's appearance, her version had been downloaded from Amazon's music store exactly two times. In its first post–Mad Men week, it has sold 1,500 copies, peaking at No. 14 on Amazon's "Rock" charts, just behind Katy Perry and a pair of Coldplay songs. Hills won't be able to retire on these checks, but she should earn enough to buy, say, a couple of cardigans from Banana Republic's Mad Men collection. If Sterling Cooper Draper Pryce existed in the present (and in real life), they'd be busy preparing a presentation on the long tail of viral marketing.