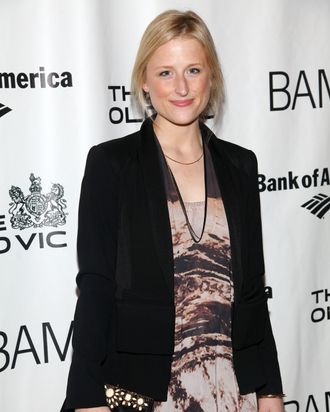 Mamie Gummer attends the opening night of "Richard III" at the BAM Peter Jay Sharp Building on January 18, 2012 in New York City.
Photo: Astrid Stawiarz/Getty Images
Mamie Gummer will star in the CW's upcoming medical pilot, Deadline reports. The First Cut, from new 90210 co-executive producer Jennie Snyder Urman, is about a new doctor who tries to ditch her "nerdy" past, only to discover that "life at the hospital where she works is no different than high school." Hey, that's a straight-up plot from the third season of Grey's Anatomy! (Callie: "It's high school with scalpels.") This is Gummer's second doctor show — she was a regular on the similarly Grey's-ish Off the Map — and she's recurred on The Good Wife as recently as this week as faux-ditzy opposing counsel, but she probably looks familiar because of her resemblance to her madre, Meryl Streep. Prediction: In the pilot, Gummer's geeky character (puh-leeze) will deal with putdowns and snide remarks from the gorgeous queen bees of the hospital, only to show them up by embracing her undercover loveliness in a slo-mo post-makeover scene that shows her purposefully marching down a hallway, hair aflouncing, confidence abrewing.