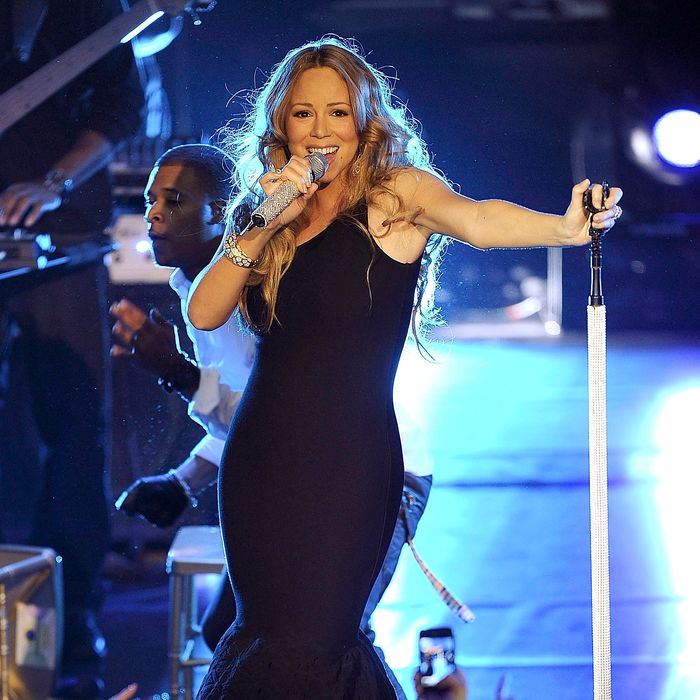 Mariah Carey performs during Escape To Total Rewards at Gotham Hall on March 1, 2012 in New York City.
Photo: Michael Loccisano/Getty Images
"It's such a drama because I didn't even realize this was such a big deal, like, returning to the stage after DemBabies," Mariah Carey announced last night at New York City's Gotham Hall. She was there as part of a synchronized TV-concert extravaganza sponsored by Caesars Total Rewards, and the evening included many awkward segues to live (ish?) feeds of concerts in Vegas, New Orleans, Chicago, and L.A. (The highlight of these satellite shows was indisputably Celine Dion, who busted out "My Heart Will Go On" within five minutes of appearing on the screen and sang the key change from some sort of geyser platform contraption. She understands her public.) In New York, former Spice Girl Mel B was tasked with the unenviable role of explaining the hoopla to a bored audience. (It's possible that they didn't even recognize her; it took this very devoted fan a good ten minutes to realize that was Scary Spice standing stage left, rehearsing her cues.) Then Diddy hustled out for a drive-through set, some LMFAO-sponsored shuffling and a few shout-outs to the Mob Wives. "Big Ang in the house!"
But the crowd was all there for Mariah, who, whatever she says, was clearly enjoying her glorious post-baby return. "I wanted to bring them here tonight, but Monroe is shy," she told us. "Miss Monroe, she needs a moment to warm up." Mariah, of course, does not, and like Celine, she was very happy to give the audience exactly what it wanted: preening and solid hits. Her styling team came out at one point for a shoe change and some blotting; throughout the show, she kept asking why everyone feels the need to record everything on their phone. The answer is probably because if you're going to stand in a large purple-lit room and get lectured by Scary Spice, then you want a permanent memory of exactly why you did it, and this crowd did it to see Mariah slay "Always Be My Baby." A revamped "Shake It Off," "Touch My Body," "We Belong Together," and "Obsessed" all made it in, too, and by the time Mariah got to "I'll Be There," the audience was hugging each other and swaying along junior-high style. (Or maybe that was just the two guys next to me.) What else was there to do, then, but sing "Hero" for the encore? Not that you could really hear her over the crowd. When Mariah Carey trots back out onstage for "Hero," you put the camera phone down, and you sing along.