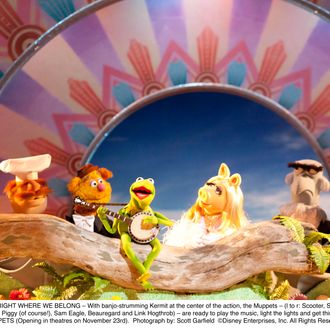 Photo: Scott Garfield ?Disney Enterprises, Inc./?Disney Enterprises, Inc. All Rights Reserved.
A deal has been reached with The Muppets director James Bobin and original co-writer Nicholas Stoller to pen a sequel, but insiders also tell us that Stoller's original collaborator, Jason Segel, won't be returning to the keyboard. Segel, a star of How I Met Your Mother — now in its eighth season — has a burgeoning film career, and Disney insiders tell Vulture that between his commitment to the CBS sitcom, his other feature-writing efforts, and promotional work for Five Year Engagement (due out this coming April) and Judd Apatow's This Is Forty (in December), there won't be time to collaborate on a Muppets sequel.
Shame, really: Segel and Stoller first pitched their idea for a Muppets sequel to Disney in 2008, just before Segel had proven his genius for blood-sucking puppetry in Forgetting Sarah Marshall. We suspect he'll be missed. He is, after all, a muppet of a man.
A Segel spokesperson did not respond to a request for comment, but we're told by our Disney insiders that there's still a chance that the actor may star in a Muppets sequel, depending on how the Stoller-Bobin script turns out.