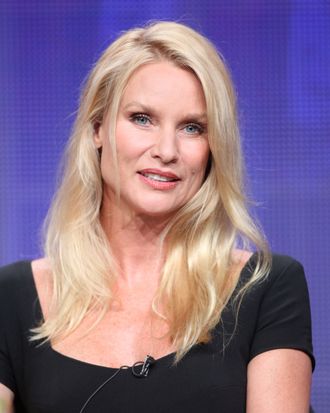 Actress Nicollette Sheridan speaks during the 'Honeymoon for One' panel during the Hallmark portion of the 2011 Summer TCA Tour at the Beverly Hilton on July 27, 2011 in Beverly Hills, California.
Photo: Frederick M. Brown/Getty Images
Nicollette Sheridan's wrongful termination suit has made its way to the trial stage, and it's about as melodramatic as you'd imagine a Desperate Housewives lawsuit to be. Sheridan cried in court yesterday, E! reports, and that was just during her own lawyer's opening statements. We got a little choked up ourselves when reading that Sheridan's lawyer cited the fact that 47 minor characters have died over the last seven seasons. 47! No wonder that show feels so repetitive. Marc Cherry's lawyers said that writers need to "shock and surprise the audience," which is true, but croaking on Wisteria Lane hasn't been shocking or surprising since death, oh, 22.