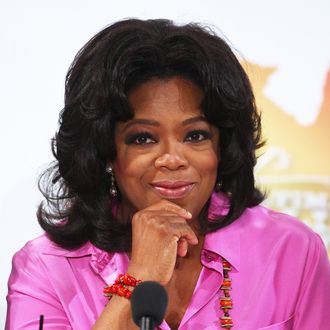 Less than a week after Oprah Winfrey's channel OWN announced the cancellation of Rosie O'Donnell's talk show, which was expected but failed to become a significant ratings draw, the struggling network has handed out pink slips to 30 employees in a so-called restructuring. "It is difficult to make tough business decisions that affect people's lives, but the economics of a start-up cable network just don't work with the cost structure that was in place," said Oprah in a statement on Monday. "As CEO, I have a responsibility to chart the course for long-term success for the network. To wholly achieve that long-term success, this was a necessary next step."
It's been a rough year for Oprah, who previously described the responsibility of being a network executive as "harder than I ever imagined." Oprah only became CEO last July when then-six-month-old OWN fired chief executive Christina Norman. And despite some big ratings spikes when Oprah has landed sought-after interviews, like with Whitney Houston's family, the network's ratings have floundered.
According to the announcement, OWN will now cede some control to executives at Discovery Communications, which has invested a reported $250 million and counting into the the venture. The Associated Press reports:
Neal Kirsch, chief financial officer of Discovery's U.S. networks, will move to OWN as the chief financial officer and chief operating officer, reporting to OWN presidents Erik Logan and Sheri Salata.

John MacDonald had decided to exit as OWN's COO, Logan said

Another Discovery executive, Lee Bartlett, will have joint oversight of business and legal affairs with an OWN vice president, Tina Perry.
On the bright side, despite rumors of bad blood between Oprah and Rosie following the cancellation of The Rosie Show after only five months, the pair is rumored to be on amicable terms!